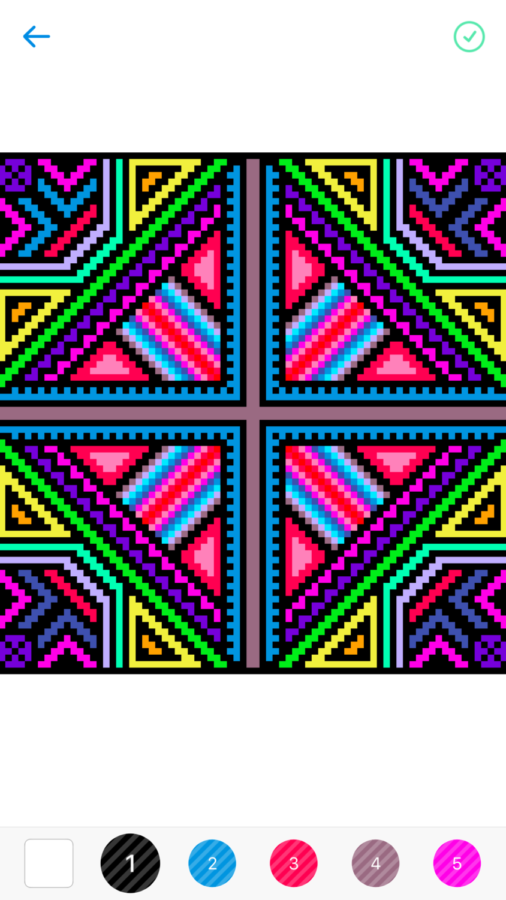 Screenshot of a Sandbox App colored by junior Ashley Beritllo.
Sandbox is an app the has swept through the halls of Timberland. Many students voiced their opinions on the apps' many features. The app is a color by number coloring book, but on your phone. The app only requires data, unless there is a need  to download new pictures to color.
"My friend showed me this app, and it is so addicting. I love to color. It is a great way to stay occupied when I am done with my work and it does not eat my phone battery," sophomore Megan Walkenhorst said.
The app updates itself twice a day so providing  new content to color. Some of the pictures to color are easy and others are difficult. The more difficult ones take more time but many have said  are worth it in the end.
"I love doing all the "hard" pictures. They look so pretty and I feel so accomplished when I am done," junior Ashley Bertillo said.
Sandbox has a premium version and a free version. The free version is now allowing one to color up to seven pictures a day. On the premium many get unlimited pictures to color. Sandbox creators recently updated the app and it now allows users to submit pictures without paying for the premium account.
"The new update is not for me, but for someone who is creative it would be awesome. I just do not have that much creativity to create a new picture," junior Jahmiah Higgins said.
To learn more about the app go to the app store for iPhones or Google Play on Androids.