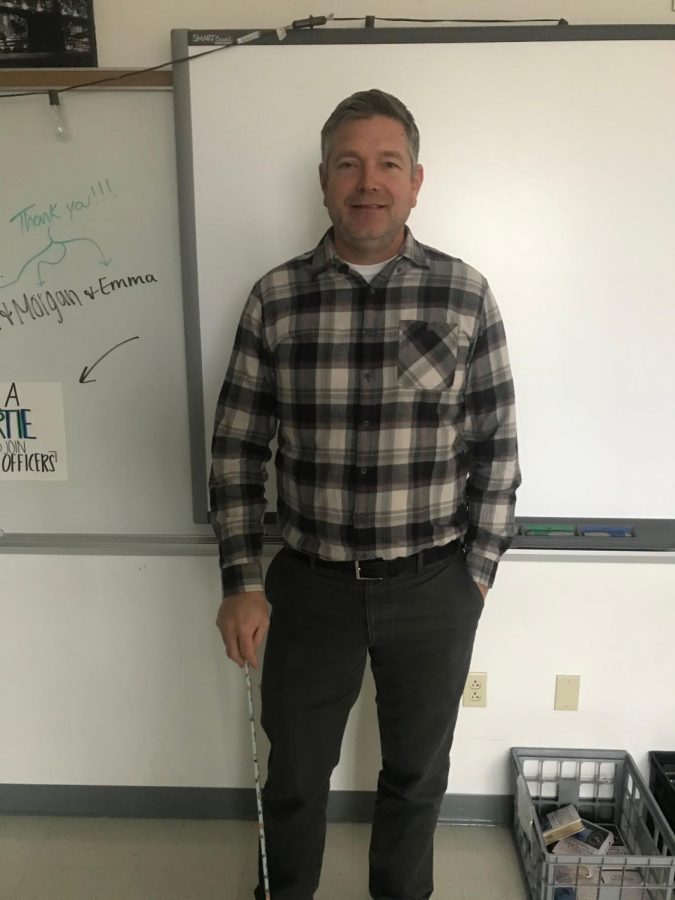 Ryan Fredrick
"The man with the stick," English teacher Kevin Porter teaches English III and IV and sponsors the junior class officers club. Outside of school, he spends his time with his two children and wife. 
"Having Porter as a teacher for two years has changed my academic life. He brings such a positive and fun energy to the classroom and loves being involved in the student's lives," senior Emmah Brauss said. 
Porter has been a teacher for 18 years, working at Timberland for 15. He said he enjoys reaching out to students and making connections with them. 
"I like to reach students who typically are not motivated. I enjoy seeing students growth from the beginning of the year to the end. I love running into students in the community all the time [and] hearing the wonderful things they are doing," Porter said. 
Outside of school, Porter enjoys barbecuing, spending time with his family, watching sports, gaming and spending time outside, especially camping and hiking
"He knows we have a sense of humor about things, but never take it too far. We know when we need to learn and when we can have fun. He is just a fun person to be around because he brings such a positive vibe to the class," senior Brynn Dockweiler said. 
In school, he said he enjoys teaching juniors and seniors because he feels they are older and more mature. Porter also expresses that students do not need to know what they want to do after school. He thinks everything will work out fine, as long as time and dedication is put in. 
"It is alright for students to not know what they want to do after high school. It is perfectly normal for someone to experience life and figure it out. Life is about experiences, not just goals and plans," Porter said.