Early 2020 Presidential Candidates
Despite it being only a few months since the midterm elections, the 2020 field has already begun to develop. President Donald Trump has already announced his intention to run for reelection, and West Virginia state senator Richard Ojeda, Massachusetts senator Elizabeth Warren, Maryland rep. John Delaney and former secretary of Housing and Urban Development Julián Castro have formed exploratory committees. Beyond that, rumors of a second presidential run by Utah senator Mitt Romney and Vermont senator Bernie Sanders have begun to spin.
Trump filed for reelection on his inauguration day. He has already trademarked his new campaign slogan, "Keep America Great," and signs are already for sale. According to USA Today, Trump intends to keep vice president Mike Pence as his running mate.
"A lot of his ideas as a president are really good, but he doesn't know how to present himself," sophomore Nicholas Newbauer said.
Warren also announced her intention to run for reelection with the formation of an exploratory committee and a video emailed to supporters on New Year's Eve. Warren is running on a wide platform, including that of implementing new policies relating to corruption, and has proposed numerous acts relating to that including the Anti-Corruption and Public Integrity Act and the Accountable Capitalism Act.
"[The] U.S. trade and economic policies have not delivered for the middle class. For decades, both Democratic and Republican leaders asserted that free trade was a rising tide that would lift all boats. Great rhetoric, except that the trade deals they negotiated mainly lifted the boats of the wealthy while leaving millions of working Americans to drown," Warren said in an op-ed on Foreign Affairs.
Another name floated is former vice president Joe Biden. Biden was former president Barack Obama's running mate and vice president, in 2008 and 2012, and before that had been a senator from Delaware from 1973 to 2009, when he became the 47th vice president.
"Republican leaders don't serve in favor of the public, and a good majority of democrats are getting trampled in elections so a more favorable candidate is needed in my opinion," senior Nick Ehlmann said.
Former Texas congressman Beto O'Rourke has also been floated as another possibility for the democratic primary. O'Rourke ran against Texas senator Ted Cruz during the 2016 midterm election for occupation of his senate seat, though lost to Ted Cruz in a narrow defeat. During the 2016 campaign, O'Rourke ran on a progressive platform with numerous ideas similar to Sanders, but after winning the primary has backpedalled from some progressive ideas.
"I believe in his ideology and belief system," sophomore Jailah Henderson said.
While no republican has officially announced a challenge to Trump, Romney's name has been floated about numerous times, especially after an op-ed he published criticising Trump's methods for getting the policies he wants. This op-ed has sparked debate as to a possible challenge to Trump by Romney. In 2012 Romney, then governor of Massachusetts, got the republican nomination, but lost to Obama.
"I think he has a lot of experience governing; I like him as a person, and his views are fairly close to mine," senior Henry Gamber said.
Sanders is another possible candidate for the presidency. After his narrow defeat against former secretary of state Hillary Clinton for the democratic nomination in 2016, he has continue to raise his notoriety, including responses to the state of the union and to Trump's statement on the government shutdown. Sanders was the representative from Vermont's at large district from 1991 to 2007 when he won a seat in the senate which he has occupied since 2007.
"He is pretty cool, and has some pretty good ideas, though I am unsure of his presidential abilities," sophomore Caitlin Barbarick said.
West Virginia state senator Richard Ojeda also announced his plans to run for president shortly after losing his bid for a seat in the House of Representatives. Ojeda has done multiple tours in the Middle East, and takes no corporate political action committee (PAC) money.
About the Writer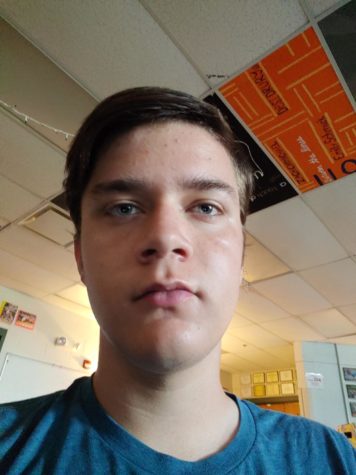 Patrick Kissel, Reporter
Hello, I'm Patrick Kissel. I'm a second year reporter on Wolfs Howl, and I took intro to journalism freshman year. I am a junior at Timberland. Outside...