Timberland High School Drumline
The drumline is one part of the THS marching band. Under the dication of band directors Courtney White and Matthew Hayes, the  Drumline has won over a dozen 1st place trophies.
Sophomore Max Fisher has been marching with the drumline for two years; last year he played the bass, this year a snare.
"I like drumline, because it gives you the feeling that you're the pulse of the band. I like the feeling of being free. You can yell out and say anything you want. You can express yourself in any way needed," sophomore Max Fisher said.
Also in the drumline is Sophomore Taylor Soukup. She went from playing bass to tenor.
"I like being on drumline, because of the people I get to march with and also spend time with. The most changeling part is carrying the drum. It was such a change from what I had last year it's hard to do at times," sophomore Taylor Soukup said.
For many, one of the best parts of the drumline is being able to travel to different competitions.
"Sometimes we don't have to practice before we get on the buses. Mrs. Cooper makes some amazing food for us while we are away. We get to play music on the bus and just relax," Soukup said. 
This is senior Connor Pellegni's last year as a marching wolf. 
"I like being in drumline, because they're a second family, they give me the encouragement to do better. I love playing the drums. Since this is my last year I'm going to miss it. It's been a part of my life for so long time," Pellegrini said.
About the Writer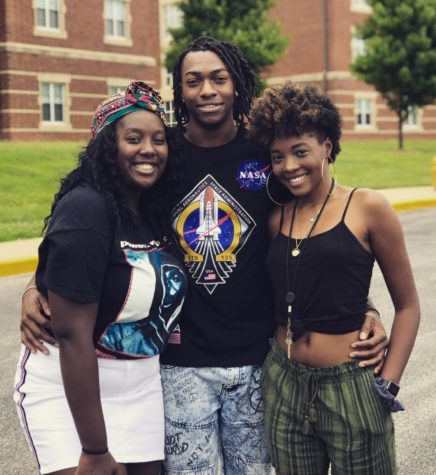 Tayonna Henderson, Reporter
I'm Tayonna, and I'm the one on the left in this picture. This is my first year on the online news staff. I've been taking photos for the last five years,...