Inktober
Throughout the 31 days of October, students at Timberland, as well as others outside of the school, participate in Inktober. Each day, a prompt is given from the official list and students decide how they want to interpret it through drawing. Students get to experiment with pens, markers and more. 
"[I've enjoyed Inktober so far], because it helps me to find something to draw. It gives me some ideas which I like, because sometimes I get stuck and do not know what to do," sophomore Caroline Marnett said.
According to the official Inktober website, Inktober started posting official prompt lists in 2016. Prior to that, people just came up with their own ideas for each day. Some of this year's themes have so far included "enchanted," "snow" and "bait." 
"My favorite so far has been 'swing,' because I feel like there are a lot of different ways you can interpret that," freshman Eliza Weber said. 
Inktober was started in 2009 by Jake Parker. It began as a way to pick up positive drawing habits and improve one's art, and has since grown into an event thousands participate in.
"I like Inktober and think it can help increase drawing skills" freshman Alison Schoene said. 
Students have been experimenting with different forms of ink like sharpies, pens and markers.
"I like the Paper Mate Inkjoy Gel Pen best," Weber said. 
Each day is a new writing utensil and prompt. While some students like Inktober overall, they have not loved all of the prompts.
"I did not like 'bait'. All I could think of was fishing. I  could not think of many other ideas at all," Marnett said.
Though not all prompts have been viewed as successful, many THS students seem to enjoy Inktober so far and feel that it can help them grow as an artist.
About the Writer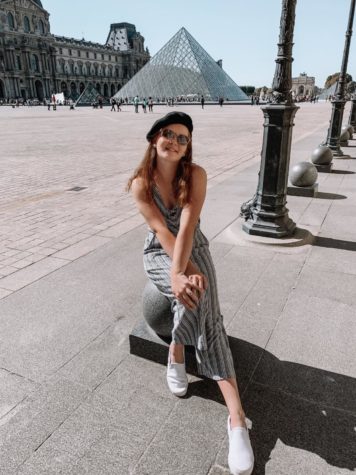 Kayla Davito, Reporter
Hi! I'm Kayla a sophomore here at Timberland. This is my first year as a reporter for Wolf's Howl, and I'm excited to write and publish stories....