The 2019 Homecoming Parade
From the colorful floats to the sounds of the band playing, the homecoming parade could easily be seen and heard in downtown Wentzville on Saturday from 9:30-11:00 a.m. 
The homecoming parade is an annual event that is held by Timberland, Holt and Liberty. Floats are all based on the dance's theme for each school. For example, Timberland's was 'I Wanna Dance with Somebody,' or 80's themed. While many can agree that the floats looked great, they really have StuCo to thank.
"StuCo has been working on the homecoming parade since a couple weeks into the school year. We are given our projects at the beginning of the semester and start planning then. The parade is a project that a select few members have been working on for a while now," sophomore Kelsey McDonald said. 
The floats were not the only stars of the show. Also, making an appearance were some clubs and organizations such HOSA, Spanish club and the dance teams.
"Being as involved as I am, I am in, working or supporting an organization in four different sports or clubs. I will be setting it up as well as walking in the parade for the dance team," McDonald said. 
The parade began on Campus Drive and continued throughout Wentzville to Luetkenhaus Boulevard. Beforehand, there was also a race open to fourth through sixth grade students. 
"I felt like I was making people happy, because the football team was handing out candy," freshman Parker Hayden said.
Students, parents and kids alike were gathered along the road Saturday, waiting to watch the floats, homecoming courts and maybe to try to catch a piece of candy from passing clubs and organizations.
"The best part of getting to work on the parade is the fact that you get to see and work on how that parade is out together. You know all the hard work that goes into it, and you get to see all of your hard work pay off," McDonald said.
This year's parade was deemed a success most who attended, but some, such as freshman Riley Frank, plan on making a couple of changes next year. 
"I think I'll go again next year, because it was fun, but I'll definitely be bringing a blanket," Frank said. 
The cold weather did not stop people from coming, however. It was estimated that around 500 people attended and about 250 THS students participated. 
About the Writer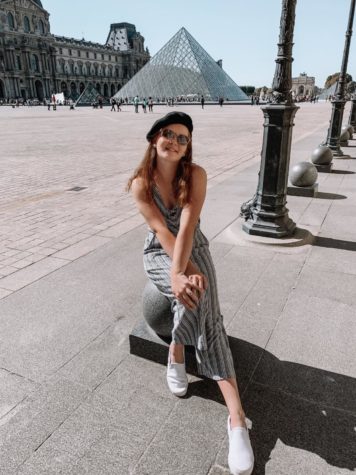 Kayla Davito, Reporter
Hi! I'm Kayla a sophomore here at Timberland. This is my first year as a reporter for Wolf's Howl, and I'm excited to write and publish stories....