2019 Honor Choir
"You haven't heard beautiful until you've gotten the top 100 people from the district together to sing," junior Ethan Zabenco said. 
Zabenco is a member of the district's Honor Choir- a group of selected individuals throughout the district that come together to practice and perform songs. This group comes together after a series of audition processes and practices from many students from multiple schools such as Parkway, Ladue and Rockwood to name a few. In total, thirty-six schools are involved in order to make up Honor Choir. Nearly 700 students auditioned; only 240 students were selected. Nineteen of those chosen attend Timberland. 
"[I'm excited about Honor Choir because] I think Honor Choir will help me increase my singing skills and I hope that I will make some new friendships," freshman Anna Kimball said.
Auditions were held October 5 at Marquette High School. Students had to prepare for the audition by learning a classical song; most of the students sang in Italian. Another qualification was that they had to be able to identify key signatures and sight read two short excerpts of music they have never seen before, according to choir teacher Ronda Fields. 
"The audition process was not as tense as most people would think," Zabenco said.
Fields's said one of her goals as a choir leader is of making an impact. This goal was realized through students like Kimball.
"Mrs. Fields said she thought I should try out for honor choir, and I figured I should see how far my singing abilities extended. I also thought it would be a good learning experience for me and that I could learn from the examples of the older kids in the choir as well as the directors," Kimball said. 
Kimball and Zebanco said they are looking forward to a great season doing what they enjoy- making beautiful music. 
"I've never been in a mixed choir that's full of such talented singers before. That's my favorite part of being in any choir; seeing all of our hard work pay off," Kimball said. 
Senior Emma Giltner qualified for the Missouri All-State Honor Choir; she was one of the top four performers for the audition out of 176 altos in the St. Louis Suburban District according to Fields. Giltner is involved in Choir and Theatre and will be rehearsing and performing at the Missouri Music Educator's Conference January 22-25, 2020.
"She works very hard and deserves this honor," Fields said.
About the Writer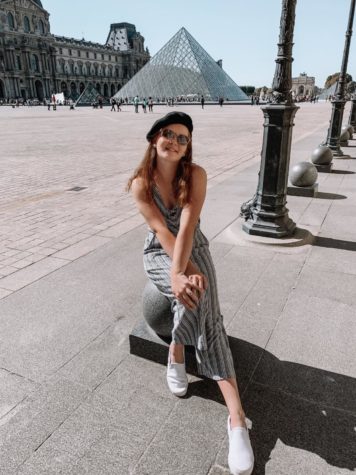 Kayla Davito, Reporter
Hi! I'm Kayla a sophomore here at Timberland. This is my first year as a reporter for Wolf's Howl, and I'm excited to write and publish stories....