Hong Kong Protests Spark Global Conrtoversy
A series of protests have shaken Hong Kong, a "Special Administrative Region" city that is controlled by the People's Republic of China, that was initially focused on a bill that would make it easier to extradite people to China. 
Currently, mainland China does not want Hong Kong to be a criminal refuge, while Hong Kongers believe that Beijing will use the law to extradite political opponents, where their legal protections cannot be guaranteed, according to The Guardian's article, "What are the Hong Kong protests about?"
"The whole situation means that mainland China would be able to abuse Hong Kong, as they have always done. Hong Kong is now searching for independence from mainland China. It's all boiled up to this point, and this bill just made it overflow," history teacher Matthew Smith said. 
Many Hong Kongers fear the law would be used by authorities to target political enemies and that it would signify the end of the "one country, two systems" policy, eroding the civil rights enjoyed by Hong Kong residents since the handover of sovereignty from the UK to China in 1997, according to the article. 
"They are finally fighting for democracy, which is why they are walking around with American flags. They want freedom from China because of the harshness and brutal government that is in place," senior Krista Maki said. 
Over the past few months, the demonstrations have evolved from millions marching through the streets to groups of protesters in hard hats storming government headquarters and shutting down the city's international airport for two days. While the majority of protesters have been peaceful, frustration is building on all sides, according to an article from CNN.
"Things have escalated recently because the frustration and anger has been boiling for the last few months from most sides. Some are getting violent, but most are peaceful, trying to come to a good outcome for both sides," junior Bella Daws said. 
Protesters are now demanding a better democracy and an inquiry into alleged police brutality during past demonstrations. Hong Kong's billionaires are calling for order. As unrest intensifies, Beijing's tone is becoming increasingly heated. Protesters have also been riled by recent allegations of police brutality. After a female protester was injured in the eye during clashes with police who were trying to disperse crowds, protesters at the airport wore eyepatches.
"Hong Kong's radical demonstrators have repeatedly attacked police officers with extremely dangerous tools. They have already constituted serious violent crimes and have begun to show signs of terrorism. This is a gross violation of the rule of law and social order in Hong Kong, which is endangering the lives and safety of Hong Kong citizens," Yang Guang, a spokesman for the Hong Kong and Macao Affairs Office, China's top body in charge of affairs in the city, speaking in a press conference in Beijing. 
On the protest front lines, demonstrators have confronted police and been targeted by stick-wielding men in white, who some accuse of collaborating with the government. But, while many Hong Kongers have been inconvenienced by transport shutdowns and other travel disruptions, there is little sense of danger in the rest of the city.
About the Writer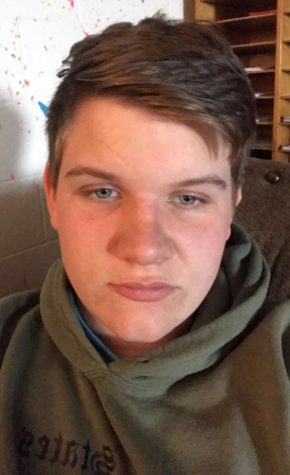 Ryan Fredrick, Reporter
Hey, I'm Ryan Fredrick and I've been on the THS Newspaper Staff for four years. I love music, movies, video games, T.V. and anything that takes me out...