The VSCO Trend
Scrunchies, Hydroflasks and Crocs are just a few items that fall under the new trend and stereotype of a VSCO girl. The trend took off over the summer and has evolved into something many people, including THS students, either love or hate.
"I like it. I think it is a little over the top, but also kind of funny. Most of the stuff is pretty cute," sophomore Peyton Stodeard said.
The VSCO girl is generally described as someone who has an account on VSCO, an app launched in 2011 used for editing and sharing pictures, and who demonstrates specific fashion and vocabulary choices. For example, many people who participate in the trend wear oversized t-shirts, Birkenstocks or Crocs, scrunchies and Pura Vida bracelets. VSCO girls are also very enthusiastic about saving the environment and use metal straws and Hydroflasks. 
"I am in the middle about it. I own things like Crocs, scrunchies and a Hydroflask, but I do not have an actual VSCO account, because I just never thought it was a necessary thing to have," sophomore Hailey Georgevich said.
Some people, such as junior Kaitlyn Yeroy are strongly against the VSCO girl trend.
"I own things like scrunchies and Birkenstocks, but I think the trend is stupid and annoying. I do not see why it is cool," Yeroy said.
The VSCO girl stereotype had reached its peak in summer, but some of the trends are still being shown at THS. For example, many students can still be seen wearing scrunchies, Birkenstocks and Pura Vida bracelets, regardless of whether or not they consider themselves part of the stereotype.
About the Contributor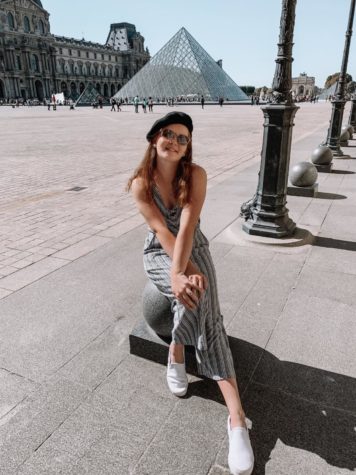 Kayla Davito, Reporter
Hi! I'm Kayla a sophomore here at Timberland. This is my first year as a reporter for Wolf's Howl, and I'm excited to write and publish stories....