Australia Fires
Beginning in September 2019 and only escalating from there, the wildfires that have ignited Australia have since resulted in the deaths of 27 people and a devastating 1 billion animals, according to an article published on Vox. These fires are sure to have a huge impact on not only the country, but also the entire world.
"I am so sad, because I know people are losing their homes and their health. The health of wildlife there is also affected, and all of the trauma they have to deal with is devastating," sophomore Mary Wright said.
It is estimated that around 42 million acres, or 65,000 square miles, have burned in Australia since the fires began in late 2019. Firefighters have been working nonstop in order to put out the fires, recently including 81 firefighters from America who have traveled overseas to aid those already there. People all over are eager to help, and THS students share their opinions on how this is possible. 
"There are charities you can donate to that will replant trees, so that it can help our environment and ecosystem. One other thing you can do is go to an account of Instagram called @plantatreeco. For every 100 follows and posts, they will donate a dollar to the NSW in Australia to help out. So, with every disaster that happens, there is always something you can do, even if it is as small as following and reposting something on Instagram," junior Caleigh Fields said.
Also on Instagram, Australian influencers have been using their platforms to help. Nineteen popular content creators worked together to make a video spreading awareness of the situation, as well as what they were doing, and what the audience could do in order to contribute. Following the video they published, along with a donation link to a GoFundMe page, the 19 people who helped create it have since raised approximately $558,600 of their $600,000 goal. This is another example of people wanting to help, but why is it so important to? 
"It is important to do something, because the more fires there are, the more damage there is to all of the families, plants and animal species in Australia. It is not just Australia that will be affected- this will have a worldwide impact," sophomore Nadia Patterson said. 
While no doubt tragic, the Australian fires have also demonstrated how people can come together to help. From Australian influencers and charities working nonstop, to Instagram posts reposted by THS students, it is being shown there is hope for Australia. The Australian government has taken action too, using airplanes and helicopters to spread 4,000 pounds of food for wildlife below to eat.
"I think it is important to keep spreading the word and making people aware of what is happening. Fundraisers and charities are a good way to help," freshman Riley Begley said.
On January 16 and 17, rain began to fall, helping contain and slow the fires. While the fires have not been extinguished, the rain has stopped the fires from spreading, at least for now. This weather has no doubt been helpful, though only for so long. According to an article by The Guardian, firefighters need the ground to be dry in order to use techniques such as bulldozing or backburning to stop fires fully. However, in addition to containing the fires momentarily, the rain has also supplied hard-working firefighters will a well-deserved break.
If interested the following are links to organizations accepting donations for the Australian Wild Fire Relief:
South Australia's Fire and Emergency Service
About the Contributor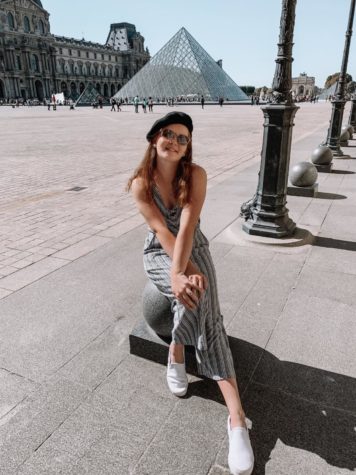 Kayla Davito, Reporter
Hi! I'm Kayla a sophomore here at Timberland. This is my first year as a reporter for Wolf's Howl, and I'm excited to write and publish stories....