Link Crew: A Spotlight
From eighth grade night to freshmen orientation, Link Crew and Link Leaders are nearby, helping those new to the school out in any way they can. Link Crew plays an important role in the lives of students, whether they realize it or not.
"I joined Link Crew, because I wanted to be able to create new bonds and friendships with incoming freshmen. Transferring from middle to high school can be scary, and it's a great feeling to know that you have upperclassmen to support and guide you throughout your first year," senior Abigail Island said. 
Link Crew helps at more than just eighth-grade night and freshman orientation. They assist freshmen with picking out next year's classes, as well as spread news about and had to participate in many THS events and clubs. Examples include volleyball night, finals cram and movie nights. Link Crew members are especially helpful to the freshmen classes, something the now-freshmen students might give back in doing a couple of years down the road. This can be demonstrated with people who became Link Leaders because of their own, such as senior Addie Rigdon.
 "During my freshman year, my Link Leaders were not very good. Neither of them really showed up, so most of the time we were left with the teacher whose room we spent AI in. I wanted to do my best to be different than them, especially during my junior year as a Link Leader," Rigdon said. 
This year's class of Link Leaders seem to be very invested in their role and hope to make an impact on the class of 2023 according to the students they help, including freshman Alexis Wilmsmeyer.
"My Link Leaders are super nice and helpful. They help us stay on top of our work and keep us involved in school activities," Wilmsmeyer said.
For those who want to join Link Crew in the future, applications are now available. Stop by Mrs. Smith's classroom in 252 to receive a form, and make sure to turn it in by February 13. 
"I couldn't imagine going into highschool without Timberland's Link Crew. It would have been very dull, and I don't think I would have made as many connections as I have being a Link Leader and having Link Leaders. It is a great feeling knowing that we are helping students be successful. I don't think Timberland would be the same without Link Crew," Island said.
About the Writer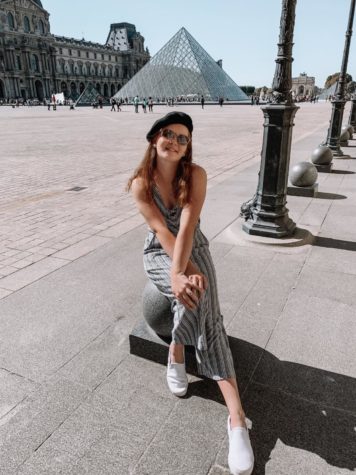 Kayla Davito, Reporter
Hi! I'm Kayla a sophomore here at Timberland. This is my first year as a reporter for Wolf's Howl, and I'm excited to write and publish stories....