Bernie Wins Nevada, while Joe Biden Wins South Carolina Heading Into Super Tuesday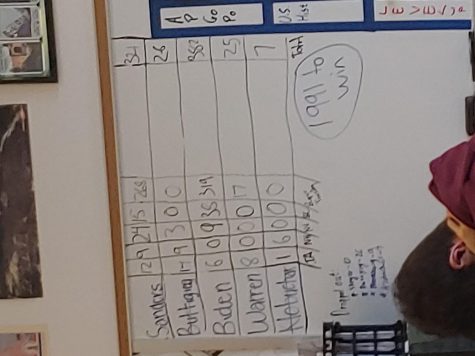 Vermont senator Bernie Sanders decisively won the Nevada caucuses, having more than 20,000 votes than the runner up former vice president Joe Biden. These results come amidst an overall rise in the polls for Sanders as he wins the popular vote three of the four states that have thus far held their primaries, while Biden won South Carolina's primary.
"My views line up almost exactly with Bernie Sanders and he has a significant portion of the polls. It makes sense to support the candidate you most line up with and that has the most support," sophomore Ronan Townes said.
In Nevada, only three candidates have reached the necessary 15% of the vote necessary to get any of the state's delegates at the national convention: Sanders with 18, Biden with 7 and Buttigieg with 1, though he dropped out of the race on March 1. This victory secures Sanders' place as the frontrunner in the democratic primary after his victory in New Hampshire and his subsequent rise in the national polls to as he usurps Biden's frontrunner position which he had held since the beginning of the primary.
"Bernie has been fighting for populist reforms since the 1960s. I believe his policies are the only ones that can effectively lead to positive change for all of us. His Medicare for All single payer system will ensure everyone in this country gets the care they need. A more moderate 'public option' is economically unfeasible," junior Ben Hostetter said.
While the Nevada primaries were not good for Biden, he did win overwhelmingly in South Carolina. He got 58 of the state's delegates, with the only other candidate getting any being Sanders with 15.
"I prefer moderate candidates, and [Biden's] views align more closely to mine than the other candidates," physics teacher Tyler Roe said.
Massachusetts senator Elizabeth Warren was also in need of a good performance in Nevada after her poor performance in Iowa and New Hampshire. Whilst she was likely helped by her performance at the ninth democratic debate, where she was one of the strongest attackers of former New York City mayor Michael Bloomberg, she did not reach the 15% threshold necessary to get any delegates out of the state, nor did she get any delegates out of South Carolina.