St. Louis Submits Bid to Host NHL All Star Game
The St. Louis Blues would like to bring the NHL All Star Game to their city and have submitted a bid to do so.
The Blues home city of St. Louis has hosted just two NHL All Star games.  The last time the game was held in St. Louis, it was 1990: the home of the Blues was "St. Louis Arena" and Ronald Reagan was the president.
"St. Louis hasn't hosted the All Star Game in a long time so I think bringing it back to the city would create even more passion for the sport in the people," sophomore Austin Fouse said.
The All Star Game has never been held at the Scottrade Center.  According to an article on Bleedinblue.com, the city could use an event like this to their advantage and make some money.  The Blues have officially submitted a bid to host the big game for in 2020 or 2021.  While they would only host one of the two games, it could really help the city of St. Louis gain more fans for their team according to the article.  
"Since the Blues have never won a Stanley Cup, I feel like no one thinks about St. Louis as a hockey city.  Bringing the All Star Game to the city would definitely help change that," sophomore Ethan Willson said.
The format of the All Star Game itself is a four team, three on three tournament style event.  One captain from each of the divisions, voted on by fan balloting, will select their teams of eleven players.  Only three from each team will be on the ice at one time.  Each team will play a 20 minute game and the winners of those games will face off in a big game the following day.  This is a faster paced way to play a game like this and the NHL makes changes to the game's format every few years.
"I would definitely try to go to the All Star Game if it ever came to St. Louis because it would be cool to see all those great players in person at one time," junior Ryan Tanner said.
The NHL usually announces which city will host the game about a year before the game's date.
About the Writer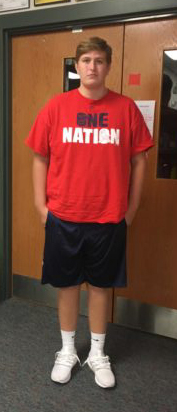 Blake Haffer, Reporter
Blake Haffer is a sophomore at Timberland High School.  

I love baseball, football and basketball and play or have played all three sports.  My passion...