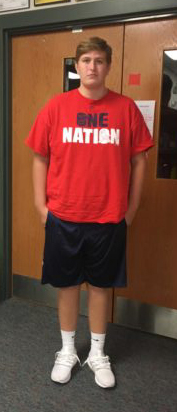 Blake Haffer is a sophomore at Timberland High School.  
I love baseball, football and basketball and play or have played all three sports.  My passion for sports makes them the topic I want to write about most... but my teacher still makes me write other stories against my will.  
I know a lot about sports, which helps me write stories about sports.  I would love to become a sports writer in the future, but if that doesn't happen, I would like to teach history and coach football at a high school.  I hope to share what I know about sports with everyone else.  
Some people would describe me as a light hearted person who can lighten up the mood of a room.
Blake Haffer, Reporter
May 22, 2018

Rookie Pitcher Sets Record for Fastest Pitch in 2018

(Story)

May 14, 2018

Yankees Prospect Returns From Being Shot

(Story)

May 14, 2018

From Failed MLB Player to First Round NFL Draft Pick

(Story)

May 14, 2018
May 04, 2018

Pujols Closing in on 3000 Hits

(Story)

May 03, 2018
May 03, 2018

Villanova Wins National Championship

(Story)

May 03, 2018

Sean Manaea Throws a No-Hitter

(Story)

May 03, 2018

Are Gronkowski and Brady Done in New England?

(Story)

Mar 23, 2018

MLB the Show 18 Preview

(Story)

Mar 23, 2018

Shaquem Griffin: One Hand, No Problem

(Story)

Mar 23, 2018

Recap of March Madness Rounds One and Two

(Story)

Mar 08, 2018

Denver Hires Homeless

(Story)

Mar 08, 2018

Five Players Receive the Franchise Tag

(Story)

Mar 08, 2018

Rams to Acquire Pro Bowler Marcus Peters

(Story)

Mar 08, 2018

Is Tanking in Sports Bad?

(Story)

Feb 22, 2018

Slow MLB Offseason

(Story)

Feb 22, 2018

Eagles Win Super Bowl

(Story)

Feb 22, 2018

Cardinals Add Pitcher Bud Norris to the Team

(Story)

Feb 08, 2018

Russell Wilson Traded…to the New York Yankees

(Story)

Jan 29, 2018

Roads that Keep themselves Clear In Winter

(Story)

Jan 29, 2018

Carlos Martinez Helps Girl With Cancer

(Story)

Jan 29, 2018

NFL Playoffs: Chase for the Lambardi

(Story)

Jan 29, 2018

National Baseball Hall of Fame Announcement

(Story)

Jan 10, 2018

Alabama Grabs National Championship

(Story)

Dec 22, 2017
Dec 22, 2017

Los Angles Rams Update

(Story)

Dec 22, 2017

MLB Off-season Update

(Story)

Dec 20, 2017

Cardinals Add Veteran Reliever

(Story)

Dec 05, 2017

NFL Week 13 Recap

(Story)

Nov 29, 2017

Are Baseball Pitchers Being Overused?

(Story)

Nov 29, 2017

Are Some Sports Injuries Preventable?

(Story)

Nov 29, 2017

Virtual Reality Black Friday

(Story)

Nov 29, 2017

Ezekiel Elliott Suspended…For Real This Time

(Story)

Nov 26, 2017

Thursday Night Football

(Story)

Nov 07, 2017

The Apple Watch and its Price

(Story)

Nov 07, 2017

St. Louis Submits Bid to Host NHL All Star Game

(Story)

Nov 06, 2017

Thursday Night Football, November 2

(Story)

Nov 06, 2017

World Series Game One

(Story)

Oct 13, 2017

Last Regular Season Football Game for Timberland

(Story)

Oct 12, 2017
Oct 12, 2017

Athletes for Puerto Rico

(Story)

Oct 12, 2017
Oct 03, 2017

Tragedy in Las Vegas

(Story)

Sep 22, 2017

Helping Out WIth the Hurricane Cleanup

(Story)

Sep 22, 2017
Sep 22, 2017

Preparing for Emergencies

(Story)