Thursday Night Football
The first game of week ten of the NFL season is complete, and there are many more on the way.
The Seahawks marched in to Glendale Arizona last night and into The University of Phoenix Stadium with a 6-2 record to take on the Arizona Cardinals who entered with their record standing even at 4-4.  Seattle took a first quarter lead when Russell Wilson threw a touchdown pass to tight end Jimmy Graham.  That put the team up 7-0.  The Cardinals then tied the game up at 7-7 on a touchdown pass to cap off their first drive of the second quarter.  When Arizona got the ball back for the second time that quarter, Seattle's defense capitalized on a costly holding penalty by tackling Cardinals running back Adrian Peterson for a loss and a safety.  This two point play and two late first half field goals gave the Seahawks a 15-7 lead going into halftime.
"Seattle's defense really played great in the first half, they shut down a pretty good offense," senior Matthew Loeffler said.
Arizona kicked a field goal in the third quarter and held the Seahawks to no points made the score before the fourth quarter.  That strong Seattle defense took a hit when pro bowl cornerback Richard Sherman was forced to leave the game in  the third quarter with a ruptured achilles.  He will miss the rest of the season.
"Sherman will be tough to replace since they already have one of their best defensive players (Earl Thomas III) out with an injury.  Jeremy Lane will have to step up," sophomore Zane Keadle said.
A fourth quarter touchdown pass by Russell Wilson then gave Seattle a 22-10 lead.  Arizona countered with two fourth quarter field goals to tighten the score at 22-16 which was the final score.
Twelve games on Sunday and one more on Monday will wrap up week ten in the NFL.
About the Writer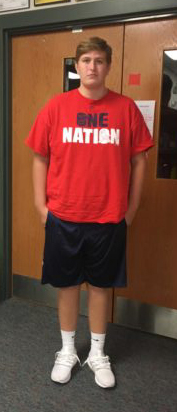 Blake Haffer, Reporter
Blake Haffer is a sophomore at Timberland High School.  

I love baseball, football and basketball and play or have played all three sports.  My passion...