March for Puerto Rico
For nearly three months, Puerto Rico has been suffering greatly from hurricane damage. The people of Puerto Rico have been living under poor circumstances, including for many a lack of electricity, since the hurricane hit on September 19.
After this devastation has occurred, many said they feel as though little has been done by the United States to relieve the pain of the Puerto Rican citizens, according to CNN.
"I think the devastation in Puerto Rico is a significant cause, but I was not aware of its occurrence. I think the march did well in raising awareness. Considering it is a discussed event, the need for help in Puerto Rico must have gained some popularity," senior Troy Roberts said.
In order to show solidarity with Puerto Rico, and attempt to raise awareness towards this issue, a protest in the form of a march was organized November 19 in Washington D.C.
"I think that this is a worthy cause. They [Puerto Ricans] are in a difficult situation and need help. They deserve our support and our compassion," Roberts said.
Many struggle with the United State's lack of outreach because Puerto Rico is a United States territory.
"The US should be reaching out more because Puerto Rico is a US territory. It is almost the same as having such a tragedy in the states. The US should be providing support (water, food, shelter) or places to stay in the US while Puerto Rico is being rebuilt," said senior Dani Magasano.
The media has erupted with questions surrounding the relief plans, as well as how little attention Puerto Rico has received, compared to Texas and Florida during their hurricanes, according to CNN.
"There is much more that we can be doing. Puerto Rico does not receive as much monetary aid and apparently does not have a plan provided to regain stability. The United States could send money and support Puerto Rico's economy. They could also provide emergency responders," Roberts said.
The "March For Puerto Rico" had a turnout of thousands of people, gathering in unity and peace. There was no destruction, rioting or looting at this protest. All were there to raise awareness to the public, as well as stand up to the government that has made few statements about Puerto Rico relief plans, according to The Washington Post.
"I am glad that the people and citizens are realizing that the people of Puerto Rico need help and that we should be the ones helping them," Magasano said.
Overall, Puerto Rico is still struggling and is still without electricity. To reach out to those in need and find out more about how you can make a difference, go to https://connect.clickandpledge.com.
About the Writer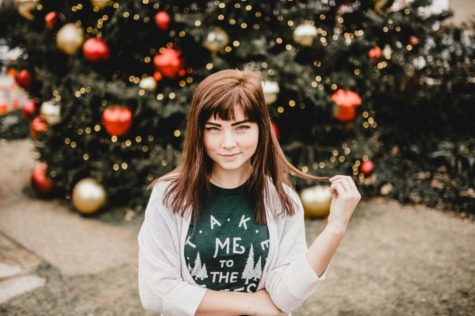 Bella Rainey, Web Designer/Developer & Reporter
Hi there, my name is Bella Rainey, and I am a senior here at Timberland!

My role on the Online News staff is to care for the website you are currently...