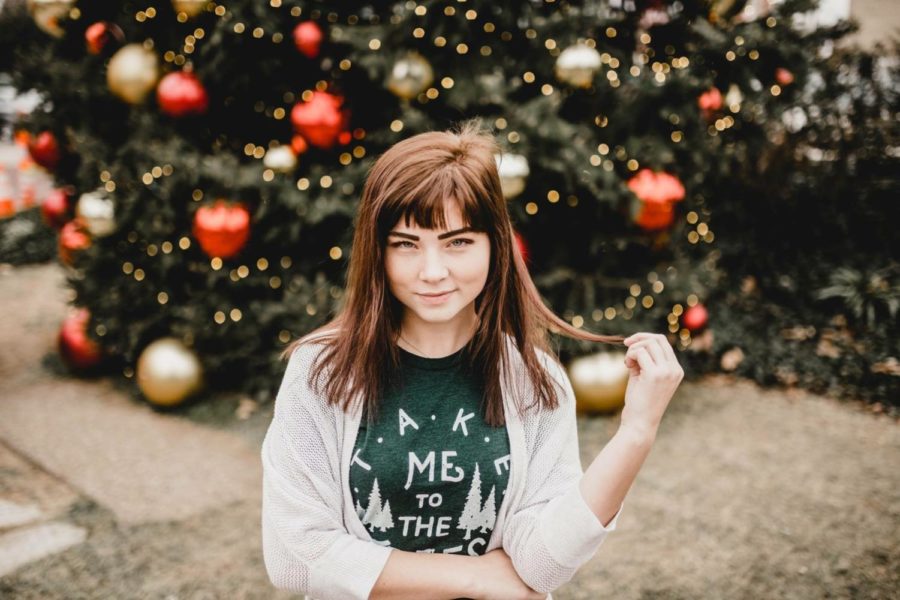 Hi there, my name is Bella Rainey, and I am a senior here at Timberland!
My role on the Online News staff is to care for the website you are currently visiting. From the layout, design, and content, I keep the page up to date and looking its best for your viewing pleasure! I also am the video editor, and a reporter for the Broadcast Media staff. 
Aside from Online News, I am also the Social Media Manager for Motivation Club, an International Thespian member, FCCLA member, and DECA member. I love being involved at Timberland and doing activities that will help serve my community. Outside of school, I write for my own lifestyle blog (www.positivelybella.com shameless self plug), drink excessive amounts of coffee, sing in my cover band One Fell Swoop, kick butt in fantasy football (go Packers!), and hug any puppy in my line of sight. I plan on moving to Colorado after graduation to attend community college for Web Design and Development. My dream job is to be a creative director or visual designer.
Enough about me, go check out more of our website! Go Wolves!
Bella Rainey, Web Designer/Developer & Reporter
May 10, 2018

Best Parts of Senior Year

(Story)

May 08, 2018

What's Going On With the Missouri Governor?

(Story)

May 08, 2018

History of Technology: Microsoft

(Story)

May 08, 2018

Small Vs. Big Government: What's the Difference?

(Story)

Apr 25, 2018
Apr 24, 2018

Social Media Usage & How It Is Affecting Us

(Story)

Apr 24, 2018

History of Technology: Apple

(Story)

Apr 17, 2018
Apr 09, 2018

The Importance of Empathy

(Story)

Mar 22, 2018

Timberland Has H.O.P.E

(Story)

Mar 22, 2018

Changes in the NFL

(Story)

Mar 22, 2018

Creativity In The Classroom

(Story)

Mar 22, 2018

Talent at Timberland

(Story)

Mar 07, 2018

Mocking Millennials and Why It Should Stop

(Story)

Mar 06, 2018

A Day In St. Louis

(Story)

Mar 06, 2018

Gun Control and What We Should Do

(Story)

Mar 06, 2018

Timberland Loves "The Greatest Showman"

(Story)

Mar 05, 2018

Seniors Speak on Swofford Game

(Story)

Feb 23, 2018

America Taking Action

(Story)

Feb 21, 2018

Seniors Under Pressure

(Story)

Feb 14, 2018

Dressing For Unpredictable Weather

(Story)

Feb 13, 2018

Teacher Feature: Jeremy Boesch

(Story)

Feb 13, 2018

What You Need To Know About Larry Nassar

(Story)

Feb 05, 2018

Super Bowl Wrap Up

(Story)

Jan 25, 2018

Everything You Need To Know About "#TimesUp"

(Story)

Jan 25, 2018

2018 Puppy Bowl Preview

(Story)

Jan 25, 2018

All About Apple's Lawsuits

(Story)

Jan 24, 2018

March. Act. Vote.

(Story)

Jan 10, 2018

All About Winter Formal

(Story)

Dec 20, 2017

Timberland Rocks My Socks Off!

(Story)

Dec 20, 2017

March for Puerto Rico

(Story)

Dec 20, 2017

#INSTAntly Famous

(Story)

Dec 14, 2017

Rockin' Around The Christmas Tree

(Story)

Dec 06, 2017

Battle of the Majors

(Story)

Nov 28, 2017

The Ultimate Guide To Holiday Gift Sets

(Story)

Nov 28, 2017

Macy's Thanksgiving Day Parade

(Story)

Nov 28, 2017

NFL Trade Deadline – Make or Break?

(Story)

Nov 28, 2017

Black Friday and Cyber Monday: Student Perspective

(Story)

Nov 07, 2017

Star Wars: The Last Jedi Trailer Release

(Story)

Nov 07, 2017

Packers vs Cancer Campaign

(Story)

Nov 06, 2017

A Look Inside THS Fashion Club

(Story)

Nov 06, 2017

Student Loan Debt: Is It Worth It?

(Story)

Nov 02, 2017

"The Lion King" Live-Action Cast Announcement

(Story)

Oct 20, 2017

Thursday Night Football Recap

(Story)

Oct 12, 2017
Oct 12, 2017
Oct 12, 2017

iOS 11: What You Need To Know

(Story)

Oct 11, 2017
Oct 06, 2017

Timberland Motivation Club

(Story)

Sep 21, 2017

Falling Into Fashion

(Story)

Sep 20, 2017

What You Need to Know: Loufest 2017

(Story)

Sep 20, 2017

Follow the Leader

(Story)