MLB Off-season Update
So far, this offseason has been  relatively quiet one as far as free agent signings and trades.
All of the rumors and news this offseason have really circulated around three things: the Yankees new manager search, Giancarlo Stanton, and star Japanese pitcher and hitter Shohei Ohtani, who it was recently reported tore his UCL.  The Yankees hired one of their greats, Aaron Boone, to manage the team, Giancarlo Stanton finally waived his no trade clause, and was traded to the Yankees. As for Ohtani, the Los Angeles Angels came out of nowhere to sign him, and reportedly plan to use him as both a pitcher and a hitter, something that is unheard of.
"I was interested to see where Japanese phenom Shohei Ohtani would land and now I am more excited to see what he and Mike Trout can do together," sophomore Robby Manor said.
As for the Cardinals, their offseason has been anything but quiet. The Cardinals started off their offseason in early December, vying to trade former all star shortstop Aledmys Diaz to the Toronto Blue Jays in exchange for minor league outfielder JB Woodman. Diaz was crunched out of playing time due to struggles, and the emergence of Paul DeJong. Later that week, the Cardinals went out and got a starting pitcher, Miles Mikolas out of Japan. Mikolas was an all star in Japan, but struggled here in the states before going overseas. The Cardinals also made a move in the reliever market by signing reliever Luke Gregerson. Gregerson was a Cardinal in 2008, as a part of the minor league system, but was traded to San Diego for Khalil Greene.
The Cards' bullpen was one of the biggest struggle spots in 2017. As for the future, the Cardinals seem to have a busy path. The team wants an impact bat, and after failing on the effort to trade for Giancarlo Stanton, they made a splash by trading for one of Stanton's fellow Miami outfielders Marcell Ozuna.  They are also still looking towards bats like Josh Donaldson and Evan Longoria to help out. The team is also looking at more pitching, both a starter and reliever, and Jake Arrieta, Yu Darvish, and Addison Reed could all be potential fits.
"What the Cardinals do this offseason is really going to be interesting.  They could be aggressive and try to get their team back on top or just sit still.  I hope they do something big," sophomore Hayden See said.
As for the rest of the league, the market is now heating up, for both trades and signings. The Orioles have interest in moving their biggest pieces, Manny Machado and Zach Britton, some of the best in the league at their respected positions. The Marlins are continuing their fire sale, now looking to trade all star outfielders Christian Yelich and Marcell Ozuna.
"The Cardinals could be really good fits for Ozuna or Yelich if they can get them for a good price.  This will be a very interesting offseason," See said.
With the offseason just underway, and still nearly two and a half months for deals to happen, it's definitely safe to say that nothing is for sure, and it's far from over.
About the Writer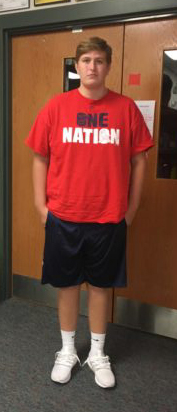 Blake Haffer, Reporter
Blake Haffer is a sophomore at Timberland High School.  

I love baseball, football and basketball and play or have played all three sports.  My passion...