Alabama Grabs National Championship
The NCAA College Football National Championship is now complete, and it did not disappoint many of the students.
The Alabama Crimson Tide marched into Mercedes Benz Stadium in Atlanta to take on the Georgia Bulldogs Monday night in the National Championship game.  In what appeared to be an early defensive battle, the first quarter produced nothing but zeros on the scoreboard for both sides.  The Bulldogs then scored 13 points in the second quarter as they were able to kick two field goals and score a late touchdown on a one yard run by Mecole Hardman.  They were also able to keep the Crimson Tide's zero on the board and entered halftime with a commanding 13-0 lead.
"Georgia got off to an amazing start last night, and their defense looked like it would keep shutting down that powerful Alabama offense for the rest of the game," junior Sean Meyer said.
Alabama coach Nick Saban made what appeared to be a brave decision by pulling starting quarterback Jalen Hurts and putting in freshman Tua Tagovailoa.  The move turned out being a great one as Tagovailoa threw for two touchdowns in the second half. Kicker Andy Pappanastos kicked two field goals to total 20 points in that half.  While Alabama's offense was exploding, Georgia scored yet another touchdown to give them 20 points, tieing the Crimson Tide.  A late missed field goal by Alabama sent the game to overtime, 20-20.
In that overtime battle, the Bulldogs kicked a field goal giving them a three point lead before Alabama got their chance at the tie or the endzone for the win.  On Alabama's drive, the true freshman quarterback Tagovailoa was able to throw a 41 yard touchdown to Devonta Smith that won them the game.  The game ended at a score of 26-23, Alabama came out as the National Champion.
"I think Tagovailoa really made a name for himself when he came in at halftime and led Alabama to a national title," sophomore Hunter Larson said.
Alabama coach Nick Saban got his fifth AP Title and will now look to defend that title next season.
About the Contributor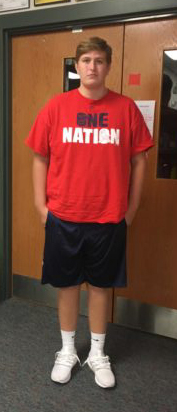 Blake Haffer, Reporter
Blake Haffer is a sophomore at Timberland High School.  

I love baseball, football and basketball and play or have played all three sports.  My passion...