All About Winter Formal
Hang on for a minute...we're trying to find some more stories you might like.
This year, Timberland High is holding a Winter Formal dance rather than the "Gloco" or "Black Light Bubble Dance" held in the past. The Winter Formal theme is "Winter Wonderland," and it will be held in the cafeteria.
"I'm expecting it to be fun, kind of like homecoming, but not as stressful," senior Grace Rhymes said.
The dance is a Sadie Hawkins style as well, so girls will ask the guys, unlike Prom or Homecoming. Student council is asking students to post pictures of their proposal to social media with the hashtag "#wolvesformal18" for a chance to win free tickets.
"I hope a lot of people show up, but I am kind of expecting the same amount of people who have come to Gloco in the past, because it seems kind of last minute," senior Emily Kurtz said.
Winter Formal is not like Homecoming or Prom when it comes to attire. Winter Formal is more casual for both boys and girls. Suggested Winter Formal attire includes polos, khakis and button ups for the guys, and skater dresses, cardigans and casual boots or heels for girls, according to Student Council members.  
"I might wear one of my old dresses or buy a cheap one at a resale shop," said Kurtz.
The type of winter dance, a "Gloco" or "Winter Formal," was chosen by student vote.  
"I plan on going to the Winter Formal, because you have to make memories, and this is my last year of high school. I want to look back on these memories," Rhymes said.
The Winter Formal will take place February 3. Early bird ticket sales between January 17 and 19 are $5; tickets increase to $7 from January 22 to26. To find out more information, follow @TimberlandStuCo on Twitter.
About the Writer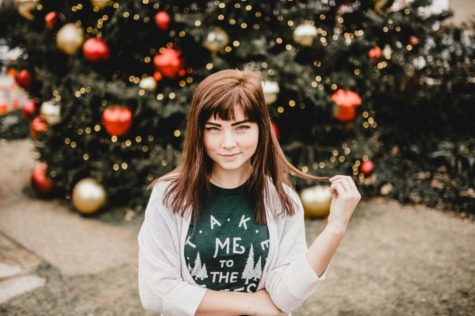 Bella Rainey, Web Designer/Developer & Reporter
Hi there, my name is Bella Rainey, and I am a senior here at Timberland!
My role on the Online News staff is to care for the website you are currently visiting. From the layout, design, and content, I keep the page up to date and looking its best for your viewing pleasure! I also am the video editor, and a reporter for the Broadcast Media staff. 
Aside from Online News, I am also the Social Media Manager for Motivation Club, an International Thespian member, FCCLA member, and DECA member. I love being involved at Timberland and doing activities that will help serve my community. Outside of school, I write for my own lifestyle blog (www.positivelybella.com shameless self plug), drink excessive amounts of coffee, sing in my cover band One Fell Swoop, kick butt in fantasy football (go Packers!), and hug any puppy in my line of sight. I plan on moving to Colorado after graduation to attend community college for Web Design and Development. My dream job is to be a creative director or visual designer.
Enough about me, go check out more of our website! Go Wolves!