Super Bowl Wrap Up
The NFL season came to an end when the Philadelphia Eagles defeated the New England Patriots in Super Bowl LII.  
"I was rooting for the eagles because I hate the patriots and I like guys like Chris long. I've been making jokes for years about Nick Foles being the 'GOAT' so I was pulling for him too," junior Dylan Curtis said.
After winning five previous Super Bowls, Quarterback Tom Brady faced his third championship loss. While he is not bringing a Lombardi trophy back to New England, Brady still managed to break or tie Super Bowl records on his own.
"I'm honestly surprised by the outcome of this game. I did not think Foles would be anything to compare to Brady and his capabilities. The Patriots are the Super Bowl team, I thought they had it in the bag," senior Mason Misener said.
Many were rooting for the Eagles just for the sole purpose of rooting against the Patriots and Tom Brady, according to CBS Sports.
"Leading up to the game I wasn't too excited because I'm a Vikings fan and I don't really love either team, but as soon as kickoff came my sheer hatred for the Patriots took over and I was thrilled to see the eagles playing so good," Curtis said.
The Philadelphia Eagles brought home their first Super Bowl title, as well as setting records along the way, such as fewest punt returns in a Super Bowl, and fewest times sacked.
"I was definitely rooting for the Eagles. I wanted to see something new. The Patriots have dominated the playoff season for so long and after last year's win I was ready to see the Eagles give them a competition," Misener said.
The underdog of this Super Bowl was Eagles Quarterback, Nick Foles. Foles is the backup Quarterback, filling in for starter Carson Wentz who was injured previous to the playoffs. Despite criticisms, Foles led the team to their first Super Bowl title, and was named MVP of the game.
"The best play of the game was either the strip [fumble] or Nick Foles' touchdown catch. I think Nick Foles will stay in [Philadelphia] behind Wentz. He's shown he's a great teammate and one of the few guys left in the NFL selfless enough to do that. He'll go down as a great Quarterback for beating Brady and not causing any issues," Curtis said.
To find out more about Super Bowl LII, visit www.espn.com/nfl/.
About the Writer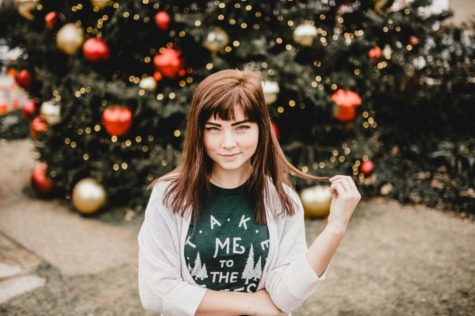 Bella Rainey, Web Designer/Developer & Reporter
Hi there, my name is Bella Rainey, and I am a senior here at Timberland!

My role on the Online News staff is to care for the website you are currently...