2018 MLB Season
The gates of MLB stadiums all across the country opened just over four weeks ago symbolizing the beginning of yet another baseball season for each team.  With excitement in the air, some teams and players are off to hot starts while others may be underachieving in the eyes of MLB experts and fans.
Every team in the Major Leagues has their own traditions on opening day.  Each team's ceremonies are a little bit different but the one constant thing in all of them is the excitement and optimistic feeling that fans have for their teams.  Even though the first regular season game for the Cardinals was not in St. Louis, the city got to experience the home opener on April 5 against the Arizona Diamondbacks.  As is a tradition for Opening Day in St. Louis, fans flooded the streets around Busch Stadium to take part in pre-game festivities. Inside the stadium, Cardinal Hall of Famers Ozzie Smith, Lou Brock, Bob Gibson and others were driven around the field following the clydesdales.  The current players followed and each of them were introduced to fans and then, shook the hands of the Cardinal legends. This is something that is recognized by many around the league to be unique to the Cardinals.
"I definitely think what the Cardinals do on Opening Day with the team legends is one of the coolest traditions in the league," freshman Christian Bragga said.
The first three weeks of MLB action have been full of a lot of close games, walk-offs, great pitching performances and milestones from both pitchers and hitters.  Cardinals catcher Yadier Molina has already completed two personal milestones this season. He started his fourteenth consecutive Opening Day for the Cardinals, passing Hall of Famer Lou Brock on the team's all time list, as well as passing Reds catcher Johnny Bench for thirteenth on the list of most career innings caught.  Former Cardinal Albert Pujols is also approaching a personal milestone in the category of career hits. He is just twelve hits away from collecting the 3000th hit of his career,(as of April 16). Completing this milestone would place him tied with Roberto Clemente for thirty-first on the all time Major League list. Other players around the league including Mariners infielder Robinson Cano and Dodgers second baseman Chase Utley are also close to reaching milestones for hits.
"It's going to be really cool to some of these big names reach these big personal milestones," sophomore Dalton Ottwell said.
According to many around the league and some around the school, some of this season's best performers have broken out this year.  Cardinals first baseman Jose Martinez is among those who have impressed. Just over two weeks into the season, Martinez is hitting .364 which has him at second in the National League and fifth in the entire MLB.  Matt Davidson of the White Sox also came out swinging, hitting 5 home runs so far. Japanese phenom Shohei Ohtani is considered by some to be the most significant. After a poor Spring Training performance, Ohtani has done nothing but impress.  As a two-way player, he has won both of his two career starts and pitched to an ERA just over 2.00, as well as batting .367 and hitting 3 home runs.
"I think Shohei Ohtani has to be the most surprising because of just how poor his spring was compared to what he is doing now," sophomore Jackson Fenner said.
With a lot of the season left to be played there is sure to be a lot more players to break out and even more excitement around the league.
About the Writer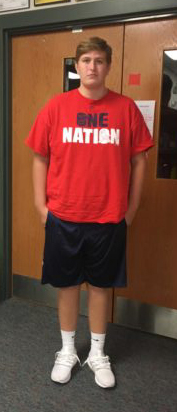 Blake Haffer, Reporter
Blake Haffer is a sophomore at Timberland High School.  

I love baseball, football and basketball and play or have played all three sports.  My passion...