From Failed MLB Player to First Round NFL Draft Pick
Some people don't get the opportunity to play any sport professionally at all in their lifetime, however newly drafted NFL tight end Hayden Hurst has now gotten the chance to do it in two sports.
Hayden Hurst was a star baseball pitcher for his team in high school and he was offered a chance to play for Florida State on a scholarship.  After he accepted this offer, Hurst was drafted by the Pittsburgh Pirates in the 17th round of the 2012 MLB draft. He signed with the team and accepted their $400,000 signing bonus and began his career with the Pirates rookie league team.  According to an article on MLB.com, just before he started his first game in the Gulf Coast League, Hurst felt that something wasn't right. He was correct. After the nerves got to him, Hurst began to lose the feel of the ball being in his hand and absolutely lost any feel he had for throwing strikes.  He exited his start that day after getting just one out, walking five batters, throwing two wild pitches and allowing one run. That start marked the end of his professional career as a starter.
"I think it's crazy how a bad outing like that can end someone's career in a sports," junior Jake Smith said.
One day, Scott Elarton, Hurst's pitching coach and a former Major Leaguer himself, approached him with an idea:  he should go play football. Hurst had played football in high school, but not since his junior year. After drawing interest from several teams, Hurst chose to walk-on to the team at the school that had offered him a baseball scholarship, Florida State, just before the 2015 season.  He played in five games and eventually earned himself a scholarship for 2016. He never looked back. Hurst played in 13 games in both 2016 and 2017 and had over 500 receiving yards as a tight end in each of those seasons. He was then offered a chance to showcase his skills to every NFL team in the NFL Draft combine.
"It's really cool how he was able to be good enough at two sports to go pro.  That is something a lot of people can't say about themselves in one sport," junior Dylan Curtis said.
After running a 4.67 forty-yard dash and showcasing his 31.5 inch vertical at that combine, Hust was being talked about as one of the best tight end prospects and had a chance to be drafted early in the draft this year.  That chatter turned out to be right on when with the 25th pick in the first round of the 2018 NFL Draft, the Baltimore Raven selected Hurst. Now, many experts and fans are expecting Hurst to get a shot at, and most likely win, the starting tight end job with the his new team.
"I think he will fit in pretty well in Baltimore because they also drafted a quarterback who could use a big target like Hurst," sophomore Noah Morris said.
About the Writer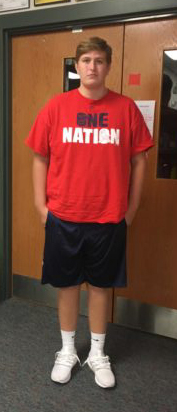 Blake Haffer, Reporter
Blake Haffer is a sophomore at Timberland High School.  

I love baseball, football and basketball and play or have played all three sports.  My passion...