Andrew Miller Slow Start: A Concern?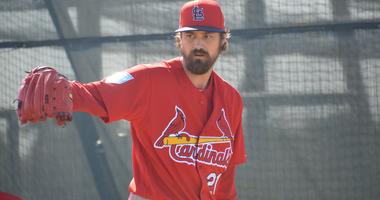 Behind Paul Goldschmidt, the Cardinals made another significant signing last winter, reliever Andrew Miller, but the start to his Cardinal tenure has not been perfect.
Miller, who signed a two year contract with incentives to qualify for a third, began this season, slowly.
Thus far, Miller has tossed 5.2 innings and allowed six runs, pitching to a 6.35 ERA. Miller has also been put into very high leverage situations because for most of the season, he had been the only left handed reliever in the bullpen, until Tyler Webb was recalled from Memphis in the midst of the Dodger series in early April. Miller has also taken a loss in a game, against the Padres, in which he allowed two home runs one go ahead, and one to add to San Diego's lead.
"Miller has not been that bad, but I hope it is not a repeat of Brett Cecil's contract, that would not be a good sign for this season," junior Blake Haffer said.
Miller has shown some success through his struggles. His first five outings saw him pitch three and a third innings with all six runs allowed and four walks to go with it. He pitched two and a third scoreless innings. Miller has struck out five over that time, and has lowered his ERA a whole three points over that time. The addition of Webb in the bullpen to alleviate the early season, high leverage situations for Miller has seemed to work thus far.
"I just hope they can get him figured out before too long, we need a reliable lefty in our bullpen if we are going to compete all season long," junior Zach Russell said.
Miller has been a reliable reliever over most of his career however. After being drafted by the Tigers in first round of the 2006 MLB draft, Miller was traded as the headline prospect for Miguel Cabrera in 2007. After coming off a few seasons where he was used as a starter, in 2012, Miller was moved to the bullpen. From 2012 to 2017, Miller had a 2.01 ERA over 350 games pitched, and struck out 520 batters. However, injuries struck Miller in 2018, and those issues might be lingering this season for the start to his Cardinal tenure.
As for now, Miller is riding a bit of a hot streak, but another bad outing could be the turn around for a long season out of the pen for Andrew Miller.