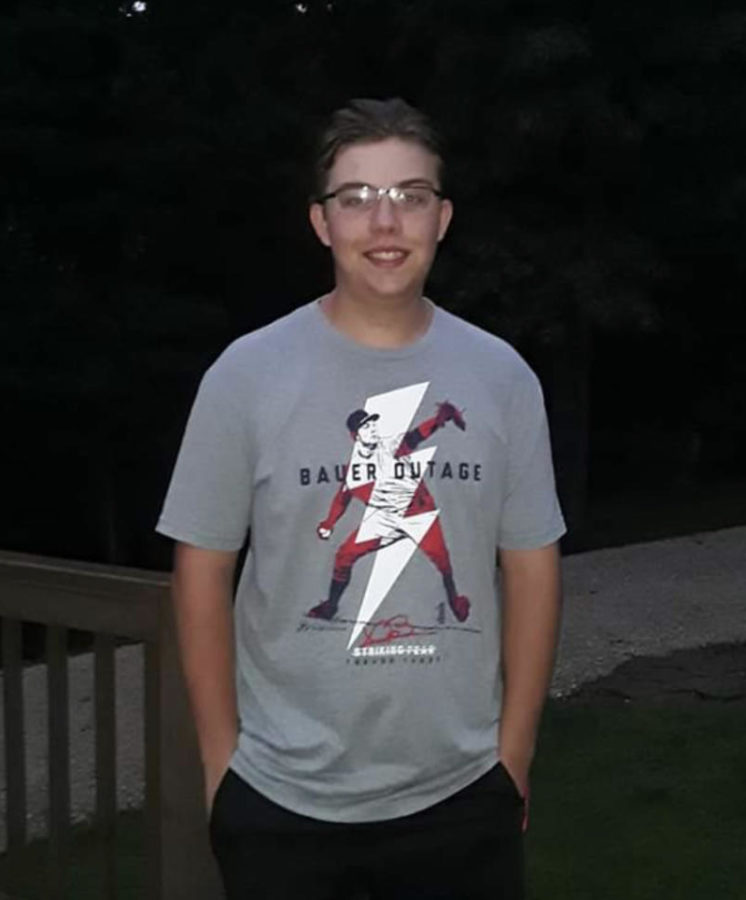 I'm Josh Calloni, and I'm a senior.
I like baseball and that is probably the most important thing anyone needs to know about me. My favorite players are Trevor Bauer and Paul Goldschmidt, and my favorite team is the Cardinals. If you approach me and talk about baseball I'll keep a long conversation-  trust me. You can also follow my baseball instagram, @royals.batflip.
In my future, I would like to be a baseball broadcaster, writer and photographer. Follow my thoughts
here
in Calloni's corner.
Josh Calloni, Reporter
May 14, 2020

Cardinals Could Benefit From New MLB Rules

(Story)

May 08, 2020

Top 10 Cardinals Relievers of the Last Decade

(Story)

May 01, 2020

NASCAR Drivers Participate in Eventful Pro Invitational Series Race

(Story)

Apr 24, 2020

MLB Players League

(Story)

Apr 17, 2020

MLB Attempting Comeback Through Coronavirus Pandemic

(Story)

Apr 10, 2020

MLB 20 The Show: A Review

(Story)

Mar 31, 2020

NASCAR Moves Virtual for Fans

(Story)

Mar 19, 2020

Sports Canceled due to COVID-19

(Story)

Mar 19, 2020

Coronavirus: No More Sports

(Story)

Mar 19, 2020

Cardinals Release Yairo Munoz

(Story)

Mar 19, 2020

MLB 2020 Season Preview

(Story)

Mar 19, 2020

NASCAR Kicks off 2020 in Daytona

(Story)

Mar 05, 2020

Cardinals Final Three Roster Spots Up for Grabs

(Story)

Mar 05, 2020

Rob Manfred is not Doing His Job.

(Story)

Mar 05, 2020

Update on NASCAR Driver Injured in Crash

(Story)

Mar 05, 2020
Feb 15, 2020

Timberland Spring Sports Trial

(Story)

Feb 15, 2020
Feb 15, 2020

Cardinals Offseason Moving Awards

(Story)

Feb 15, 2020

MLB Sign Stealing Scandal

(Story)

Feb 08, 2020

Dodgers Close to Acquiring Mookie Betts

(Story)

Jan 24, 2020

Cardinals Build for the 2020 Season

(Story)

Jan 24, 2020
Jan 24, 2020

Tanking in Baseball

(Story)

Jan 24, 2020
Jan 21, 2020

Winter Warmup 2020

(Story)

Jan 15, 2020

Cardinals Acquire Matt Liberatore from Rays

(Story)

Dec 19, 2019

Timberland Walking Habits

(Story)

Dec 19, 2019

Calloni's Corner: MLB Winter Meetings

(Story)

Dec 19, 2019

Pitcher Felipe Vazquez Facing New Charges

(Story)

Dec 19, 2019

XXXTENTACION Posthumous Album Released

(Story)

Dec 19, 2019

Cardinals Active During Winter Meetings

(Story)

Dec 19, 2019

Cardinals Sign Kwang-hyun Kim

(Story)

Dec 02, 2019

MLB Non Tender Day: Details

(Story)

Dec 02, 2019
Dec 02, 2019

Calloni's Corner: Astros Sign Stealing Scandal

(Story)

Dec 02, 2019

How To Prep For Finals

(Story)

Dec 02, 2019

Cardinals Extend Shildt, Girsch and Mozeliak

(Story)

Dec 02, 2019

Potential Cardinals Offseason Adds

(Story)

Nov 06, 2019

Calloni's Corner: MLB's Offseason Begins

(Story)

Nov 06, 2019

New Details in Death of Angels' Tyler Skaggs

(Story)

Nov 06, 2019

Are Chromebook Blocked Sites too Harsh?

(Story)

Nov 06, 2019

Cardinals Close Successful 2019 Season

(Story)

Oct 30, 2019

Calloni's Corner: Managerial Openings in the MLB

(Story)

Oct 30, 2019

MLB 2019 Regular Season Review

(Story)

Oct 30, 2019

Wentzville – City of Growth

(Story)

Oct 07, 2019

Cardinals Take Game 1 of NLDS.

(Story)

Oct 03, 2019

2019 MLB Breakouts

(Story/Media)

Oct 03, 2019

NFL Early Season Storylines

(Story)

Oct 03, 2019

Calloni's Corner: 2020 MLB Rule Changes

(Story)

Oct 03, 2019

MLB Postseason Preview

(Story)

Sep 20, 2019

Cardinals Defeat Washington 4-2; Look for Series Win Tonight

(Story)

Sep 16, 2019

Cardinals Making A Late Season Playoff Push

(Story)

Sep 16, 2019

iPhone 11 Details

(Story)

Sep 16, 2019
Sep 16, 2019

Calloni's Corner: Cardinals Outfield Logjam

(Story)

Sep 16, 2019

Rushing Players to the MLB: Good or Disastrous?

(Story)

May 28, 2019

Three Top MLB Prospects Make Debut

(Story)

May 23, 2019

Mike Fiers Throws First No Hitter of 2019

(Story)

May 23, 2019

Is Minor League Baseball Repetitive

(Story)

May 23, 2019

Underrated Potential MLB Hall of Famers

(Story)

May 23, 2019

Cardinals Early Bullpen Success

(Story)

May 10, 2019

Cardinals Beat the Pirates 17-4

(Story)

May 08, 2019

PlayStation 5 Early Details

(Story)

May 08, 2019

MLB Breakouts of 2019

(Story)

May 08, 2019

MLB Oddities: Early 2019

(Story)

May 08, 2019

Calloni's Corner: Submarine Style Pitching

(Story)

May 02, 2019

Cardinals Farm System Update

(Story)

Apr 30, 2019

Cardinals Defeat Brewers 13-5

(Story)

Apr 23, 2019

Calloni's Corner: Recent Cardinals' Reliever Struggles

(Story)

Apr 23, 2019

Andrew Miller Slow Start: A Concern?

(Story)

Apr 23, 2019

Chris Davis Breaks Historic Slump

(Story)

Apr 23, 2019
Apr 16, 2019

Jackie Robinson Day 2019

(Story)

Apr 10, 2019

Hyundai Self Driving Cars

(Story)

Apr 10, 2019

Houston Chemical Fire

(Story)

Apr 10, 2019

Cardinals 2019 Preview

(Story)

Apr 10, 2019

Calloni's Corner: Is Kolten Wong The Real Deal

(Story)

Apr 08, 2019

Cardinals Take on Pirates in Series Finale

(Story)

Mar 21, 2019

Athletics, Mariners Open Up 2019 Season in Japan.

(Story)

Mar 19, 2019

Calloni's Corner: Baseball's Next Breakout Stars

(Story)

Mar 19, 2019

Tornados Rock Alabama

(Story)

Mar 19, 2019

The MLB's Next Big Prospect

(Story)

Mar 19, 2019

Independent and Overseas Baseball: Does it compare to the MLB?

(Story)

Mar 15, 2019

Cardinals Make First Round of Roster Cuts.

(Story)

Mar 15, 2019

Is it Time for the MLB To Expand?

(Story)

Mar 15, 2019

Albert Pujols First Return To St. Louis Set for 2019

(Story)

Mar 15, 2019

MLB The Show 19 Preview

(Story)

Mar 15, 2019

Cardinals Spring Training Battles

(Story)

Mar 14, 2019

Cardinals Extend Miles Mikolas; Sign Matt Wieters

(Story)

Feb 20, 2019

Kyler Murray Chooses Football

(Story)

Feb 20, 2019

Calloni's Corner: Is Yadier Molina a Hall of Famer?

(Story)

Feb 20, 2019

Calloni's Corner: Are Dominican Player Mistreated?

(Story)

Feb 20, 2019

MLB Discusses Possible Rule Changes

(Story)

Feb 20, 2019

Spring Training 2019 Is Here

(Story)

Feb 20, 2019

2019 MLB Hall of Fame Class Announced

(Story)

Feb 20, 2019

2019 Cardinals Winter Warmup

(Story)

Feb 20, 2019

Samsung S10 To Be Released Soon

(Story)

Feb 04, 2019

2013 NL Champion Cardinals: Where are they now?

(Story)

Jan 22, 2019

JT Realmuto: Will he be traded?

(Story)

Jan 22, 2019
Jan 22, 2019

China Travels to the Dark Side of the Moon

(Story)

Jan 22, 2019

Is Over Celebration a Good Thing for Baseball?

(Story)

Jan 08, 2019

Cardinals Current Projected Opening Day Roster Outlook

(Story)

Dec 17, 2018

Cardinals Close to Signing a Lefty Reliever

(Story)

Dec 12, 2018

XXXTentacion Releases New Album

(Story)

Dec 12, 2018

St. Louis' Push for a 3rd Major Sports Team

(Story)

Dec 12, 2018

Calloni's Corner: Is NASCAR a Sport?

(Story)

Dec 11, 2018

Rumors Spreading on First Day of MLB's Winter Meetings.

(Story)

Nov 27, 2018

Cardinals Lose out on Donaldson; shift focus.

(Story)

Nov 20, 2018

Why exactly is Bob Ross famous?

(Story)

Nov 20, 2018

Bartolo's Back: 46 Year Old Wants More

(Story)

Nov 20, 2018

MLB-Japan Series Wraps up 2019 Baseball

(Story)

Nov 20, 2018

Calloni's Corner: MLB Award Voting Bias

(Story)

Nov 19, 2018

Kanye Hands out Yeezy's to Ugandans

(Story)

Nov 14, 2018

Cardinals Finalize 2019 Coaching Staff

(Story)

Nov 14, 2018

Is Bryce Harper a Fit for the Cardinals?

(Story)

Nov 14, 2018

Red Sox, Astros Face ALCS Controversy.

(Story)

Nov 14, 2018

Mariners Under Fire for Alleged Racial Comments

(Story)

Oct 31, 2018

MLB Offseason: Early Rumors Swirling

(Story)

Oct 23, 2018

World Series Preview

(Story)

Oct 23, 2018

Lil Wayne Releases Tha Carter V

(Story)

Oct 23, 2018

Red Tide Killing Sea Animals in Florida

(Story)

Oct 19, 2018

NLCS Game 6 Tonight

(Story)

Oct 08, 2018

Calloni's Corner: MLB Playoffs Set

(Story)

Oct 08, 2018

Duck Boat Crash Lawsuits being Handed.

(Story)

Oct 08, 2018

Orioles Wear Braille Jerseys

(Story)

Oct 01, 2018

Cardinals Sweep Giants, Set up for Huge Final Week of Season

(Story)

Sep 18, 2018

Hurricane Season 2018

(Story)

Sep 18, 2018

Calloni's Corner: Will the NL ROY come from the Cardinals?

(Story)

Sep 18, 2018

Legacies Ruined by Crimes: Right or Wrong?

(Story)

Aug 30, 2018

Calloni's Corner: Mike Shildt is the New Cardinals Manager.

(Story)

May 14, 2018

Memphis Removes Historic Statues

(Story)

May 14, 2018

MiLB Mistreatment?

(Story)

May 14, 2018

MLB in other countries

(Story)

May 03, 2018

Early MLB Breakouts

(Story)

May 03, 2018

YouTube HQ Shooting

(Story)

May 03, 2018

MLB 18: The Show Review

(Story)

Mar 23, 2018
Mar 23, 2018

Gun Sale Age Limit Raised in Certain Stores

(Story)

Mar 23, 2018

Steroid Users in the Hall of Fame?

(Story)

Mar 08, 2018

Cardinals Early Spring Training Breakouts

(Story)

Mar 08, 2018

Cardinals 2018 Outlook

(Story)

Mar 08, 2018

Should the Cardinals Add One More Player?

(Story)

Mar 08, 2018

Mario Kart Mobile coming in 2019.

(Story)

Feb 22, 2018

What To Watch For This Spring Training.

(Story)

Feb 22, 2018

Field Of Dreams Vandalized.

(Story)

Feb 22, 2018

Government Shutdown

(Story)

Jan 30, 2018

Are Athletes Paid Too Much?

(Story)

Jan 29, 2018

Is domestic violence in sports a concern?

(Story)

Jan 29, 2018

Record Breaking Cold on New Years Eve

(Story)

Dec 22, 2017

Five Alarm Fire Downtown

(Story)

Dec 22, 2017

The Loss of a Baseball Icon

(Story)

Dec 22, 2017

Black Friday 2017

(Story)

Dec 20, 2017

Stanton: Big Trade or Big Trouble.

(Story)

Dec 20, 2017

Cardinals Start Potentially Big Offseason

(Story)

Nov 26, 2017

Wentzville's Next Major Athlete

(Story)

Nov 26, 2017

MLB Mourns Losses

(Story)

Nov 07, 2017

The President and Social Media: Is it a good relationship?

(Story)

Nov 07, 2017

Hurricane Season 2017

(Story)

Nov 07, 2017

Google Pixel Buds

(Story)

Nov 06, 2017

History and Celebrations of Halloween.

(Story)

Oct 12, 2017

St. Louis Sports: What's coming next?

(Story)

Oct 04, 2017

Tom Petty, Rock Singer, Dies at 66

(Story)

Sep 22, 2017

Tesla: Worth it or not?

(Story)

Sep 22, 2017

Wild, Wild West: Western Wild Fires

(Story)

Sep 22, 2017

Closing it Out: MLB 2017 Wrap Up.

(Story)