Freshman Publishes Book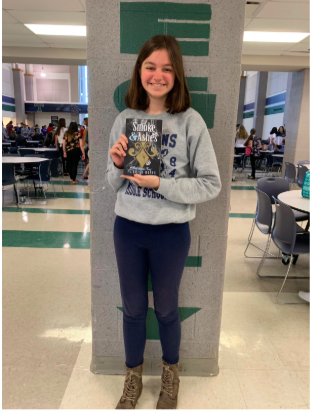 Seven years is a long time. For freshman Peighton Weber, it is nearly half of her life, and also the time it took for her to publish her first book, "Smoke and Ashes."
Since it has been a work-in-progress for so long, Weber said she cannot remember when the title idea originally came to her, but that the book overall can be described as "insane and dark." 
"The best part of the process was the satisfaction of holding the physical copy of my book. The worst was the anxiety of having other people read it," Weber said.
However, Weber had nothing to fear. Family and friends responded in a very positive manner.
"I was shocked. The book was great and really well written, especially for a teen," freshman Phoenyx Allmeyer said.
"Smoke and Ashes" is a dark fantasy and adventure book, that according to Goodreads, tells the story of charachters with different abilities, Reese Asbell and Alex Christy.
"I would describe her book as a wonderful adventure that is filled with joy and sadness. I thought the book was amazing and would definitely recommend it to everyone," freshman Anna Bessie said.
Since the book was published on March 17, Weber  has been editing book two of what is intended to be a six book series called "The Callian Prophecy." She recently released the title of the second book, "Frost and Flame," in an Instagram post.
"I am really looking forward to the second book. I am constantly asking her about it and she tries not to spoil anything. I am really excited to see the plot move forward and to find out what all of my favorite characters have been up to. I cannot wait to meet some new characters and get answers to my questions," Allmeyer said.
Fellow students are not the only ones eager to read Weber's book.
"I have not had a chance to [read it] yet, but it is on my summer reading list," English teacher Corinne Drozkowski said.
Weber's feelings: 
"Honestly, I did not expect it, but there are several people who have messaged me on social media saying that I am an inspiration. It made me feel incredible," Weber said.
For those interested in writing their own book, Weber has given advice, "just do it. The fear or anxiety that you're not good enough will definitely slow you down, but you cannot let it stop you," Weber said.
The book can be found at the school library and on Amazon.