"Little Shop of Horrors" Opening Week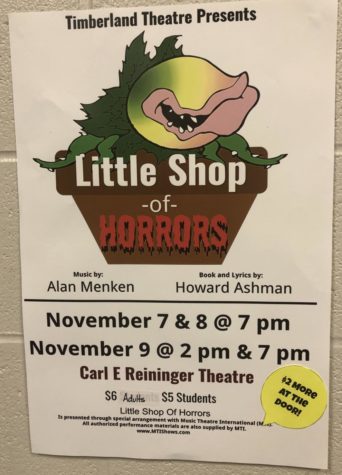 "Little Shop of Horrors," a musical production put on by the Timberland theater program, will be appearing this week on the stage of Timberland's Carl E. Reininger theater, with the first public performance being held Thursday at 7 p.m. 
The cast of over 20 Timberland students has worked alongside the crew of over 30 students for the past 13 weeks to perfect their performance. Actors have worked to memorize their scripts, music and choreography during this time while the crew creates and designs costumes, props and sets.
"We have a great cast and crew. I'm excited to show everyone what we've been working on," senior Carly Bohning said. 
"Little Shop of Horrors" is based on the 1960s cult horror film and, according to cast members,  is bound to keep the audience on the edge of their seats.
"The show will definitely keep you entertained throughout all the twists and turns," senior Riley Clark said.
The main human character Seymour Krelborn, played by Senior Kyle Rehme, is an average, nerdy, flower shop employee who buys Audrey II, a power-hungry talking plant, to decorate the drab flower shop on Skid Row. Eventually, he finds out that the plant has a bloodthirsty secret.
"Come see the talents of Timberland, including last year's winner at the St. Louis High School Musical Theatre Awards for Outstanding Supporting Actor-Kyle Rehme," theater director Melissa Queen said.
The theatre department also won Outstanding Costume Design and Outstanding Musical Budget Level 1 last season.
Come see the show at Timberland's Carl E. Reininger theater on November 7, 8 and 9 at 7 p.m. or November 9 at 2 p.m. Tickets can be purchased at the door- $8 for adults and $7 for students or online in advance. Those who purchase their tickets online will save $2.