THS Piano Class
There are many opportunities to take music-based classes without being a part of the band here at Timberland. One of the piano class.
Music teacher Kimberly Skroblus leads the class, as well as works with the THS band and choir.
Students start with the basics, learning to  be able to read notes, tell the rhythm of each note and just understand the basic concepts. Then, the students are able to pick the music they want to play.
"I help with them when help is needed. Piano I have to do one minute at the minimum, and Piano II has to do two minutes at the minimum," Skroblus said. 
Since this class is only a semester-long, students have the choice to take both Piano I and Piano II. Many take this class to complete their fine art credit to be able to graduate.
"I always wanted to learn how to play piano, because my friend Hallie was so amazing at it," senior Dream Miller said.
Before taking the class Miller said she wanted to see if she would be able to teach herself. She soon noticed that it was very difficult to be self-taught.
"I thought teaching myself would have been easy by just using a few youtube videos, but it was easier being able to have a teacher there to help you,"  Miller said.
The class is not restricted to band or choir students. Junior Andrew Boswell said he took Piano I and  learned how to sit, the hand positions, and the proper way to bow at the end of a great performance.
"Taking the class was very helpful to me. Mrs. Skroblus taught me how to play and how to read music," Boswell said.
While taking the class, students are able to learn to play songs that are well known and others they have not heard of.
"I was able to play one of my favorite songs. I would tell everyone I know to take this class," Boswell said.
About the Writer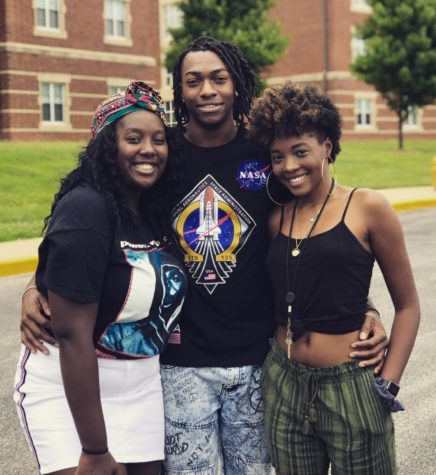 Tayonna Henderson, Reporter
I'm Tayonna, and I'm the one on the left in this picture. This is my first year on the online news staff. I've been taking photos for the last five years,...