NASCAR Moves Virtual for Fans
In light of the recent COVID-19 outbreak, NASCAR had to cancel its weekly races up until at least May 10th, but the league has found an exhibition style alternative to keep its fans happy.
NASCAR has used a popular simulation system called iRacing, which is used by fans and real racers alike for fun, and for some, as practice for real life races. The subscription based game scans the real life tracks and cars to give users on the game the most accurate experience as they can for each race, making it a perfect place for NASCAR to host some exhibition races for their fans.
This week's race featured current and former drivers, as most of the NASCAR Cup Series field competed, as well as former drivers Greg Biffle, Bobby LaBonte and Earnhardt Jr.
In total, 67 drivers across multiple different levels of NASCAR entered to race at the virtual Texas Motorspeedway, with 31 locked in automatically, mostly due to their level in real life. That left 36 cars competing for 4 spots in the last chance qualifier race, which included names like Justin Haley, Trevor Bayne, Jefferey Earnhardt and Wentzville's own Kyle Weatherman. After 30 laps, the final four that advanced to the main race were Alex Labbe, Ty Majeski, Anthony Alfredo and Ruben Garcia Jr. 
Proceeding the last chance qualifier, was the main event's qualifying, which left the front row for the start of the race to William Byron, who got his NASCAR start on iRacing, and future NASCAR Hall of Famer Dale Earnhardt Jr, leading the field of 35 to the green flag. 
Byron took the lead for the first half of the race, which was caution free until the caution was thrown for Christopher Bell, who tangled with Michael McDowell and Austin Dillon, triggering a crash in the trioval. The race was green from there until Matt DiBenedetto drove Alfredo into the wall, which ended Alfredo's race, and collected Daniel Suarez as well. The restart from that caution triggered another wreck, which included Biffle and FOX Sports' "In Race Reporter" Clint Bowyer, who pulled out after the wreck into traffic, collecting DiBenedetto, Ricky Stenhouse Jr, Majeski and Jimmie Johnson. Following the wreck, Suarez was parked by NASCAR for intentionally wrecking fellow competitor Ty Dillon under caution. 
Throughout the carnage that occured in the middle to late stages of the race, the top five remained rather consistent, Byron led Timmy Hill, Ryan Preece, John Hunter Nemecheck and Parker Kligerman for much of the race. Nemecheck and Kligerman were taken out during a late race wreck that occurred in the trioval. Preece would have joined them, but had a very impressive save through the infield grass, saving it as he entered the track again in turn one. 
That crash setup the final restart, with Hill and Byron lining up on the front row. Hill quickly jumped in front of Preece and in line behind Byron, before nudging him out of the way into turn one. Byron fell to 7th, which left Hill with the lead with two laps to go. Hill then held off Preece and Landon Cassil for the last two laps, and won the 125 lap race.
In real life, Hill races for the underfunded Motor Business Management, driving the same 66 car he won with online, proving that different motors in NASCAR is a definite deciding factor, and that skill does not always play a factor. However, as for iRacing, Hill has won 673 races before today's, and entered the race as a favorite.
It might not be real sports, or real racing, but for most fans, some sense of normality during this time of uncertainty is reassuring, and it gives a chance for new fans to see what NASCAR can truly be all about, perhaps in a simpler light.
About the Writer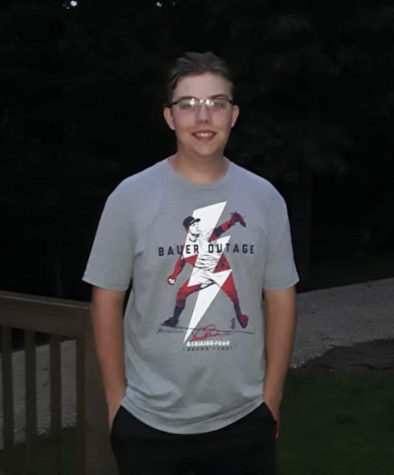 Josh Calloni, Reporter
I'm Josh Calloni, and I'm a senior.

I like baseball and that is probably the most important thing anyone needs to know about me. My favorite players...