Helping Out WIth the Hurricane Cleanup
As efforts to clean up damage from hurricanes Harvey and Irma have begun, there are some well known companies and organizations that are doing things to help the victims
A Pizza Hut in Texas, the state that took much of the damage from Hurricane Harvey, is helping people as they escape from the flooding waters left from the storm.  According to Pizza Hut's Twitter account, employees from a Pizza Hut location in Oak Lake, Texas delivered hot fresh pizza to people in the area, some by canoes.
"It is truly awesome how people are putting their own lives in risk to help others in ways like this.  That is amazing," sophomore Carter Fetterhoff said .  
People in their houses that were receiving the free pizza were more than happy for the nice gesture made by the employees.  The Pizza Hut restaurant said they would continue these efforts until everyone was helped or until they ran out of food to serve.
Anheuser Busch has also been doing more than their part to aid people while this tragic event is going on.  The company has taken on the challenge of providing clean drinking water to those who were affected by the hurricanes.  
"I love seeing this stuff because the Busch company is based in St. Louis and I think it is really cool how people in our area are doing so much to help," senior Brad Papez said.  
The Busch factories have sent out over 200,000 beer cans full of water for people who were affected hurricane Irma to drink.  The cans provided by Busch will be given out to the people by the American Red Cross Association.
"It is great because they are donating something that the people need desperately," senior Alex Thomason said.
There are also many professional athletes that are helping out.  Many of them like JJ Watt of the Houston Texans have started collecting money to buy stuff that the victims will most likely need.  Watt collected over $30 million to help out his Houston community and the rest of Texas.  St. Louis Cardinals infielder Matt Carpenter has been donation $30,000 per every home run that he hits for the rest of the season.  
"It's crazy to think that athletes and celebrities can have this much impact in a tragic situation like this," Papez said.  
Our high school has also been collecting money and selling t-shirts to help the victims of the tragedy.  In total, "our school has raised almost $4000 to help out," Thomason said.
About the Writer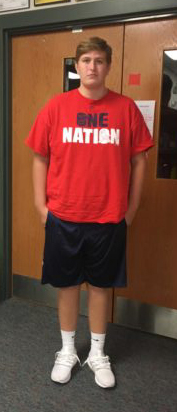 Blake Haffer, Reporter
Blake Haffer is a sophomore at Timberland High School.  

I love baseball, football and basketball and play or have played all three sports.  My passion...