Take A Knee
On August 14, 2016, Colin Kaepernick, previous San Francisco 49ers quarterback did not stand with his team during the National Anthem before their preseason football game began, according to SBNation. Just over a year later, 30 of Kaepernick's previous teammates took a knee during the anthem, as well as players and staff from almost all teams in the NFL in hopes to show signs of unity against injustice in the United States.
"I was a big fan of the teams locking arms and taking a stand for what they believe in. The teams that stayed in the locker room really upset me," junior Dylan Curtis said.
Teams like the Tennessee Titans and Pittsburgh Steelers stayed in the locker room during the anthem, except for one player, Steelers left tackle and veteran Alejandro Villanueva, who stood outside of the tunnel during the song. Many believe that political issues should not be involved in sport entertainment at all.
"I do not think politics and sports should overlap. They are two completely separate things and have no correlation. I have lost respect for the NFl and the athletes who participate in the protests," senior Caroline Lemen said.
While politics may not correlate with sports, the source of the start of the "#TakeAKnee" twitter trending hashtag gained prominence when President Donald Trump made comments about Kaepernick, and his disagreement with kneeling or sitting during the anthem during a joint press conference, according to CNN. Many only became aware of the debacle because President Trump spoke out.
"I know Trump said some stuff and NFL teams responded," Curtis said.
All in all, this is most of what the public thought before team after team took their own stance on the subject. The big question many on social media are asking – was this handled well, or will it only divide the country further?
"They are not rioting, it is a peaceful protest, and there have been interviews from the players explaining what the protest is for, for people who think it is against the flag, which it is not. It is about the racial issues and how things are being handled and how it is wrong," senior Jillian Clegg said.
Since the weekend of the kneeling movement, more teams have continued to kneel or lock arms in solidarity, while others have decided to stand again.To stay updated on the upcoming week's kneeling and standing players, visit cnn.com
About the Writer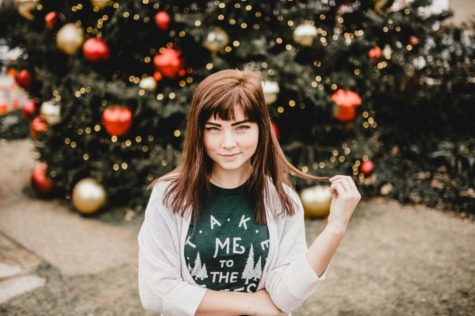 Bella Rainey, Web Designer/Developer & Reporter
Hi there, my name is Bella Rainey, and I am a senior here at Timberland!

My role on the Online News staff is to care for the website you are currently...