Athletes for Puerto Rico
Hurricanes Irma and Maria have destroyed much Puerto Rico and now there are many professional athletes and teams that are trying to help out the island nation.
Category five Hurricane Irma passed the country on September 7 and left many Puerto Ricans without electricity.  About 60,000 people in the country were still without power when Maria first hit land.  The category four Maria was a less powerful storm than Irma, but it caused much more damage because it was a direct hit on the island.
"It's awful how two hurricanes that are this big can hurt such a small country and the people in it," junior Skylar Everman said.
St. Louis Cardinals catcher Yadier Molina, who is a native of Puerto Rico, is doing a lot to help out his home country as they try to recover from these storms.  Molina's wife, Wanda,  started a fundraiser on GoFundMe to raise money for cleanup and recovery processes, and Molina joined her.  They set the goal at $1 million and has been getting the word out by tweeting and posting about the fundraiser on twitter and instagram.  Thus far, over $150,000 have been raised on this site.  
"Molina is my favorite player, and it's really cool to see how much of an impact professional athletes like him can have on a situation like this.  It definitely makes me like him more not only as a player but also as a person when I see him doing this off of the field," sophomore Tory Bunner said.
Many other Major League Baseball players who are natives of Puerto Rico are also doing their part to help out their home, including hall of fame catcher Ivan Rodriguez, Jorge Posada, Javier Baez, Enrique Hernandez and Carlos Beltran.  Some of them are raising money by starting foundations and others selling t shirts.  The entire Houston Astros organization, whose city just got hit by their own natural disaster recently sent about 240,000 pounds of supplies to Puerto Rico.
"I think it is really cool to see how baseball players are paying so much attention to helping people out while they are in the middle of the postseason chase.  It shows that they care about more than just baseball," sophomore Hayden See said.
Everything that these athletes are doing is in order to help the country recover from the natural disasters that affected them.
About the Writer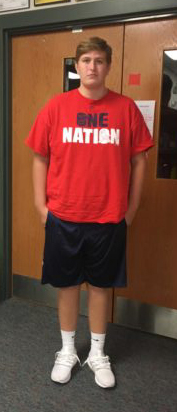 Blake Haffer, Reporter
Blake Haffer is a sophomore at Timberland High School.  

I love baseball, football and basketball and play or have played all three sports.  My passion...