Last Regular Season Football Game for Timberland
The  varsity football team is taking on Fort Zumwalt North tonight at 7:00 pm at North.  This season, THS is 5 and 3; Zumwalt North is undefeated.
If Timberland wins this game, they will receive home field advantage throughout the district playoffs.  Both teams won their last games in big ways.  Zumwalt North got a dominant win over Fort Zumwalt South, 54-7.  Timberland beat Francis Howell North last week 43-22.
Sophomore running back Jarrett Wilson is a player to watch; he scored a touchdown in each of the team's last three games.
"North is going to be tough to beat, but I think if we work together, don't let the little things get to us and pick each other up…  we can pull out a win," Wilson said.
The offensive line of Timberland also has a tough game ahead of them against a big North defense.  They will look to open up the holes for Wilson to run through and keep junior quarterback Cole Martin from being sacked.
"We need to get a really good push up front  and make sure the linebackers don't clog up the running lanes.  We have been practicing taking the right combo steps all week, so if we do that right we should be able to open up holes for Jarrett," senior lineman Jacob Watson said.
The Timberland defense is also going to have to try and shut down this explosive Zumwalt North offense.  They have scored over 40 points in every game this season.
"I believe we can contain them, but we all need to execute our assignments.  The defensive line needs to penetrate and the defensive backs need to stay discipline in order to stop the run game," sophomore safety Ethan Zawlocki said.
About the Writer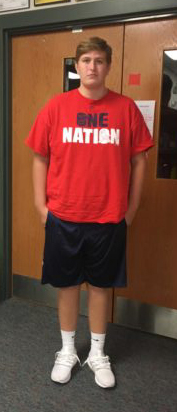 Blake Haffer, Reporter
Blake Haffer is a sophomore at Timberland High School.  

I love baseball, football and basketball and play or have played all three sports.  My passion...