World Series Game One
Game one of the World Series has come and gone but the excitement of the game still remains.
Last night, the Los Angeles Dodgers took on the Houston Astros in game one of the World Series.  On the very first pitch of the game, Dodgers centerfielder Chris Taylor hit a homerun to give his team an early lead.  Ace pitcher Clayton Kershaw took over from there only allowing one run over seven innings of work while striking out eleven batters.  During the last two innings of the game, Dodgers relievers Brandon Morrow and Kenley Jansen were lights out as well.  The lone run for the Astros was scored on a solo homerun by Alex Bregman.
"It was all in all a really good game, but it was very fast paced so I wanted to see more," sophomore Justin Smith said.
It really was a fast game, the fastest World Series game since 1992 in fact.  Some fans at the game  thought that it ended too quickly in fact.  The Dodgers took a 1-0 lead in the best of seven series.  
"I want the Dodgers to win, because they haven't won in a long time," sophomore Ethan Seymore said.
This game set the stage for a really exciting game two tonight and World Series in general.  Justin Verlander is on the mound matched up with lefty Rich Hill in game two of the series.
"It would be cool to see the Astros win the World Series because I like Carlos Beltran and he has never won one.  He also might retire soon so he needs to do it any chance he gets," Smith said.
The last time the Dodgers won the World Series was 1988, while the Astros have never achieved the feat.
About the Writer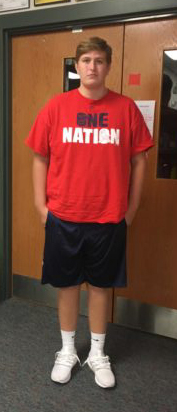 Blake Haffer, Reporter
Blake Haffer is a sophomore at Timberland High School.  

I love baseball, football and basketball and play or have played all three sports.  My passion...