Los Angles Rams Update
This season, their second in since leaving St. Louis and moving to Los Angeles, the Rams have taken a big step forward.
The Rams got their start in Cleveland in 1936 and stayed in Ohio until after the 1945 season.  The team then moved to southern California, until 1994 before moving to St. Louis in 1995.  Eastern Missouri would be their home until after the 2015-16 season,  when the owners of all other NFL teams voted on the proposed relocation of the team back to LA.  This officially moved the team back to their second home and left St. Louis without a football team.
"I was very disappointed when the Rams moved to LA, because I loved going to their games with my family," junior Cameron Kreklow said.
When the Rams were in St. Louis they won two NFC Championships and collected one Super Bowl win over twenty seasons.  Their last championship was the NFC title in 2001.  Since 2001, the Rams made playoff appearances in 2003 and 2004.  Since that last playoff appearance the Rams have not collected a winning season.  Many Hall of Fame players have played for the Rams in their time in St. Louis including Marshall Faulk, Orlando Pace and the 2017 inductee Kurt Warner.
"The Rams hadn't had a lot of success in recent years when they were in St. Louis but they did have a pretty good history here, a lot of great players," senior Matthew Loeffler said.
Changes started during the team's first year back in Los Angeles when they acquired the first overall pick in the 2016 draft and selected quarterback Jared Goff.  After leading the team to a 4-9 record, head coach Jeff Fisher was fired in the middle of the season.  The Rams finished 7-9 that season.  They then hired Sean McVay, 30, to become the youngest head coach in the NFL.  The Rams also traded for wide receiver Sammy Watkins and drafted Cooper Kupp and Gerald Everett to give their now second year quarterback more receiving options for 2017.  Behind the coaching of McVay, the play of Goff and third year running back Todd Gurley, the Rams now have 10-3 record and sit atop the NFC West.  This record assures that the team will finish with their first winning record since 2003.
"I am glad to see the Rams finally winning again and doing well for Los Angeles.  I do still cheer for them now even though they aren't in St. Louis," Loeffler said.
The Rams have now officially clinched to make their first playoff appearance since 2004 and will look to go deep into the playoffs.
About the Writer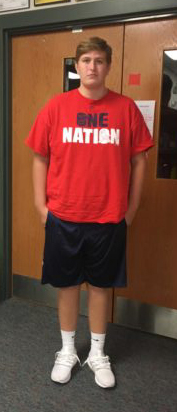 Blake Haffer, Reporter
Blake Haffer is a sophomore at Timberland High School.  

I love baseball, football and basketball and play or have played all three sports.  My passion...