Russell Wilson Traded…to the New York Yankees
An NFL quarterback being traded is not be uncommon, but a quarterback being traded to the New York Yankees may be another story.
Before he was Seattle Seahawks quarterback, Russell Wilson was a Colorado Rockies infielder.  The Rockies selected Wilson in the fourth round of the 2010 MLB draft.  He played two seasons in the team's minor league system and had a batting average of .229, hit a total of 5 home runs and stole 19 bases over the span of those years.  Then in 2012, he was drafted to the NFL by the Seahawks and became their starting quarterback.  He is now a pro bowler at the quarterback position and helped get his team to the playoffs in each of his first five seasons.
"Wilson is an amazing quarterback, and I think it is really cool how he got the chance to play two professional sports," sophomore Hunter Larson said.
In 2013, Wilson was drafted in the Rule 5 draft by the Texas Rangers and therefore claimed off of the Rockies roster.  This was just two months before he lead the Seahawks to a super bowl win over the Denver Broncos.  Wilson has not played baseball since he was drafted into the NFL, but has appeared at a Rangers Spring Training camp.  Now, since being traded to the Yankees, Wilson has expressed his excitement by tweeting, "Thank you Texas…Hello New York," and then honoring his late father by adding, "Always said we'd we a Yankee Pops!"  He has also expressed interest in once again appearing at a big league Spring Training camp but this time for his new team.
"I would love to see Wilson appear at Spring Training, because it would be cool to see him get a chance.  I haven't that he wants to be a true two sport athlete in the pros though," sophomore Josh Jaworski.
Wilson has not played professional baseball since he was drafted to the NFL but now he is moving his MLB home from Texas to New York.   
About the Writer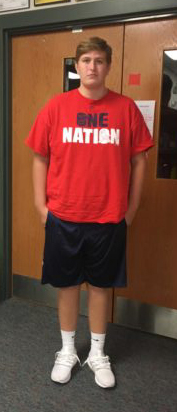 Blake Haffer, Reporter
Blake Haffer is a sophomore at Timberland High School.  

I love baseball, football and basketball and play or have played all three sports.  My passion...