NFL Draft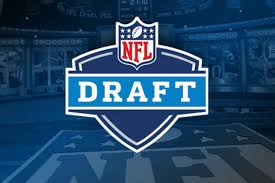 The annual NFL Draft is around the corner, and there is a lot of speculation around the draft this year.
This year, the Cleveland Browns have the number one pick. Followed by the Giants, the Jets, this pick via the Colts, the Browns again, this pick via the Texas, and the Broncos, rounding out the top 5.
The Browns have the first pick for the second year in a row, however, this season, they go in with a somewhat improved team, acquiring quarterback Tyrod Taylor, wide receiver Jarvis Landry, and cornerback Damarious Randall in three different trades, made easier by trading away the stockpile of early draft picks they had, plus young quarterback DeShone Kizer, who is know on the Packers, part of the Randall trade. This, and the fact the team has two top five draft picks could make their season interesting.
"I think Saquon Barkley is gonna be a huge star one day in the league. He'll definitely be a top 10 draft pick this year. He's a really good player, and his speed will bring a lot of new elements to whatever team drafts him," freshman Austin Gooch said.
As for players, there are quite a list of potential first picks. Saquon Barkley has been rumored to be one of the top picks. A running back from Penn State, he has a record of running for 3,843 yards with 43 rushing touchdowns, while getting 1,195 receiving yards with eight touchdown receptions. Other names in the draft include Quenton Nelson, guard, from Notre Dame, Josh Rosen, quarterback from UCLA, and Minkah Fitzpatrick, a safety from Alabama.
"I don't really know what to expect yet, as I don't really follow college football. I don't know what to expect towards a mock draft, because news comes out about players quite frequently in the month before the draft. One player I have heard of is Vita Veta, who seems to be a nice top linemen," freshman Carl Wiese said.
The draft will be held on April 26 through the 28, in Arlington, Texas in AT&T Stadium, home of the Dallas Cowboys.