Recap of March Madness Rounds One and Two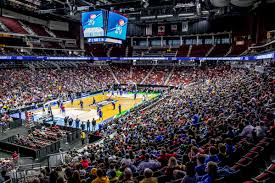 The NCAA Men's March Madness basketball tournament is now well underway and there are more games yet to come.  Rounds one and two are complete and a lot has already happened.
Radford, St. Bonaventure, Texas Southern and Syracuse were able to get wins in the first four games to punch their tickets to the tournament.  They respectively sent home Arizona State, N.C. Central, UCLA and LIU Brooklyn. Then, in the first round, Rhode Island kicked things off with a 83-78 win over Trae Young and the Oklahoma Sooners.  Arizona and their freshman big man DeAndre Ayton, who is often mentioned as a potential number one overall pick to the NBA, were sent home after a first round loss to Buffalo. Other upsets followed over the course of round one including perhaps the biggest in tournament history, a win for 16th seed UMBC over 1st seed Virginia.  This was the first time that a 16 has beaten a 1 in the history of the Men's tournament.
"I was shocked when I was watching the Virginia vs. UMBC game, because I had expected Virginia to do really well in the tournament," sophomore Jonathan Davison said.
The second round was was also full of exciting action with a lot of close games and a few buzzer beaters which made it clear that players on every team weren't ready for their seasons to end.  Loyola University in Chicago, Nevada, Syracuse and Michigan all escaped round two with wins of two points or less over their respected opponents. Michigan freshman Jordan Poole created one of the most memorable finishes of the tournament so far when he threw a three point shot that was just able to beat the buzzer when it fell through the net, giving his team a 64-63 win over Houston.
"Jordan Poole's buzzer beater was crazy.  It was an amazing game to watch," sophomore Ashaad Love said.
Action for the Sweet Sixteen round of the tournament begins on March 22, the first game being between Loyola Chicago and Nevada, both of whom won their previous games by small margins.  The other matchups are Texas A&M vs. Michigan, Kansas State vs. Kentucky, Florida State vs. Gonzaga, Clemson vs. Kansas, West Virginia vs. Villanova, Syracuse vs. Duke and Texas Tech vs. Purdue.
"I'm excited to see the Syracuse-Duke game because Duke really dominated in the second round and Syracuse has been a surprise team so far.  Maybe they can surprise everyone again," freshman Jack Borgmeyer said.
Two rounds down, three more to go before the National Championship game.  Viewers can catch all of the action on the March Madness live app.