Prom Recap
Hang on for a minute...we're trying to find some more stories you might like.
April 14 was Timberland's prom, themed "A Night With Gatsby". Prom was held at the Old Hickory Golf Club with catering and a DJ.
"I enjoyed some of the music, but I think it would be better for everyone if the songs could relate to everyone's taste and not just one genre," senior Emily Kurtz said.
While the dance is the focus, the process of getting ready for the dance tends to be what attendees look forward to.
"My favorite part about prom is getting ready and dressing to impress everyone. Taking pictures is a big part as well! The preparatory things are the things that get me excited to go. It gets you super excited and there's something about getting all dressed up, hair, makeup, and nails and all that makes everyone super stoked about the dance!," Kurtz said.
This year, prom was not located in the same venue as last year's dance, getting mixed reviews from students.
"My least favorite part about prom was how hot it was! Man everyone was sweating on the dance floor but it was still so fun," senior Caroline Lemen said.
For seniors, this is the last high school dance they get to attend, making it a bittersweet experience for many.
"I'm sad about never experiencing this again, but at the same time, I'm glad I'm ending high school with such a great experience," Kurtz said.
To see more about prom preparation and photos from the dance, visit @thsprom on Instagram.
About the Writer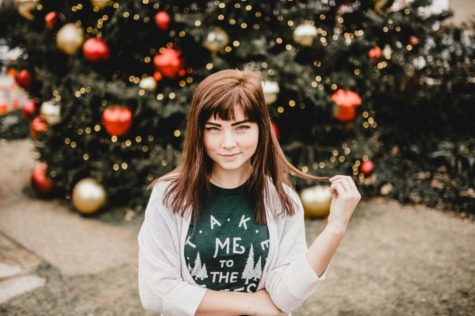 Bella Rainey, Web Designer/Developer & Reporter
Hi there, my name is Bella Rainey, and I am a senior here at Timberland!
My role on the Online News staff is to care for the website you are currently visiting. From the layout, design, and content, I keep the page up to date and looking its best for your viewing pleasure! I also am the video editor, and a reporter for the Broadcast Media staff. 
Aside from Online News, I am also the Social Media Manager for Motivation Club, an International Thespian member, FCCLA member, and DECA member. I love being involved at Timberland and doing activities that will help serve my community. Outside of school, I write for my own lifestyle blog (www.positivelybella.com shameless self plug), drink excessive amounts of coffee, sing in my cover band One Fell Swoop, kick butt in fantasy football (go Packers!), and hug any puppy in my line of sight. I plan on moving to Colorado after graduation to attend community college for Web Design and Development. My dream job is to be a creative director or visual designer.
Enough about me, go check out more of our website! Go Wolves!