Are Gronkowski and Brady Done in New England?
Voluntary offseason training programs have begun for most teams around the NFL, and some pretty big names are yet to appear at training facilities.  Reports from ESPN and other people around the league are unsure whether some of the players will return to their teams at all.
Pro bowl quarterback Tom Brady is still yet to commit to playing football for the 2018-19 season.  The five-time pro bowler and three-time NFL MVP has previously said he wants to play until he is forty-five, he is now forty, which made him the oldest NFL MVP in history.  According to league sources, people close to Brady believe he will return to the team. If he does not return however, many believe the Patriots have a major need at the position.  They traded way both Jacoby Brissett and Jimmy Garoppolo who were considered by some to be in a battle for the title of "Tom Brady's successor". The only quarterback on New England's roster behind Brady is now veteran Brian Hoyer who hasn't started more than 10 games in a season since 2014.
"I definitely think Brady will be back.  He is too productive and healthy at this point in his career not to," sophomore Brendan Goggins said.
Another Patriots star, tight end Rob Gronkowski, has also not committed to playing football going forward.  Gronkowski has battled injuries throughout his career and even more often the past few years. Since 2016, Gronkowski has fought with thigh, hamstring and multiple back injuries to go along with a bruised lung and a concussion.  All of which caused him to miss games over the course of that time period. Along with these rumors of not returning to the NFL, there are also rumors floating around that he could be joining the WWE. He did appear in the Andre The Giant Battle Royal and interfered to help out wrestler Mojo Rawley.
"I think it is more likely Gronk does not return compared to Brady because of his extensive injury history," freshman Josh Arndt said.
As the Patriots and the league wait on decisions from these two players they are expected by both to explore options to replace them as security.
About the Writer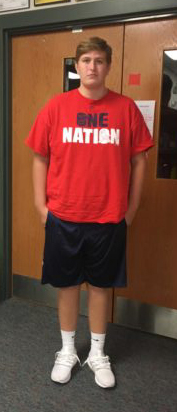 Blake Haffer, Reporter
Blake Haffer is a sophomore at Timberland High School.  

I love baseball, football and basketball and play or have played all three sports.  My passion...