Sean Manaea Throws a No-Hitter
Oakland Athletics left-hander Sean Manaea joined just thirty other MLB pitchers from this decade on Saturday when he threw the thirty-first complete game no hitter in the last eight years.
On Saturday, April 21, Athletics starter Sean Manaea did not allow a single Boston Red Sox hitter to reach base via a hit.  He did it against one of the league's hottest lineups, who have a 18-5 record and currently have the highest team batting average in the Major Leagues of .271.  It marked the first time that the Red Sox had been no-hit in just about 25 years. The great accomplishment was almost lost when Boston left fielder Andrew Benintendi was called safe on a close play at first base in which he appeared to dodge the tag of first baseman Matt Olson.  After an umpire meeting, Benintendi was ruled out because he ran out of the baseline to dodge the tag. He was then able to get veteran first baseman Hanley Ramirez to ground out to complete the first Athletics no-hitter since 2010. Manaea struck out 10 batters and walked just two on 108 total pitches to finish of the masterful performance.
"Manaea had a great game.  It was a great performance and was even more impressive because he shut down the Red Sox," sophomore Lawrence Watson said.
The 2018 season has seen a few near no-hit performances to go along with the season's first that was completed.  Just one day before Manaea's complete game gem, Padres starter Tyson Ross took a no-hit bid into the eighth inning.  A few others including Giants right-hander Johnny Cueto have taken no-hitter passed the fifth inning this season. Some people around the league and fans believe this is happening because of the rise in strikeout numbers and the jump in home run numbers.  They believe hitters are going all out for the home run while in return not focussing as much on making contact or getting base hits. A student at Timberland agrees with this theory.
"I think that no-hitters or at least no-hit bids are going to be happening more because of how hitters try to only hit home runs," freshman Matt Miner said.
No-hitters are still considered to be one of the most impressive feats in baseball, but if experts are right, they are becoming more and more common.
About the Writer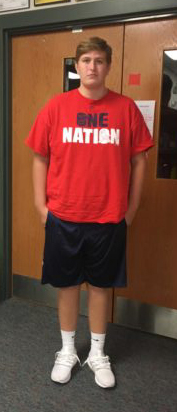 Blake Haffer, Reporter
Blake Haffer is a sophomore at Timberland High School.  

I love baseball, football and basketball and play or have played all three sports.  My passion...