Pujols Closing in on 3000 Hits
Former Cardinals legend and current Los Angeles Angels first baseman Albert Pujols is looking to join an elite list of just 31 other players that have collected 3000 or more hits throughout their career.
Entering his team's game Thursday, May 3 against the Orioles, Pujols had a total of 2998 hits in his career.  In the second inning, he drove a ball down the left field line for a double that plated two runs for the Angels in what was his second at bat in the game.  Fans cheered as a "Pujols Hit Counter" sign in the bleachers flipped from 2998 to 2999. He was unable to collect the elusive 3000th hit in the rest of his at bats of that game.  The milestone watch will have to moved from Los Angeles to Seattle, where the Angels will take on the Mariners in a three game set starting Friday. Just last season, Pujols became the ninth player in history to hit 600 home runs in his career.  Now, on the verge of yet another milestone, Pujols needs just one hit to total 3000 in his career.
"I hope Pujols get number 3000 soon and I will definitely be watching because he was great for the city of St. Louis during his time with the Cardinals," sophomore James Worley said.
During his eleven-year tenure in St. Louis, Pujols was able to collect 2073 hits, before he eventually signed with the Angles in free agency following a championship season with the Cardinals.  In that time, Pujols won two world championships and three MVP Awards. In the six and part of a seventh seasons playing for the Angels, he has added 926 hits to that number bringing his total to where it is now at 2999.  Most around the league think it is a given that he will complete the 3000 hit milestone in the upcoming series in Seattle.
"I think he will definitely go in the Hall of Fame as a Cardinal because of just how great he was while with the team," sophomore Jackson Fenner said.
You can keep up with his chase for history and possibly witness hit number 3000 on TV or check for it on the MLB At Bat App.
About the Writer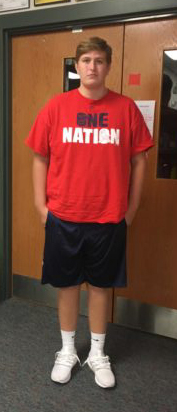 Blake Haffer, Reporter
Blake Haffer is a sophomore at Timberland High School.  

I love baseball, football and basketball and play or have played all three sports.  My passion...