Yankees Prospect Returns From Being Shot
Thairo Estrada, a prospect in the New York Yankees organization, who was shot in an attempted robbery in his native country of Venezuela has now returned to baseball action.
While spending time in his home country earlier this year, Estrada was approached by two people, whom he said appeared to be no older than 15-16 years old.  They demanded he give them money and his cell phone. While searching his pockets for the requested items, he was shot in the right hip. Estrada said he had not even realized he was shot until he saw the hole-like wound on his hip, which sent the then 21-year old infielder to a nearby hospital.  After performing multiple tests, doctors realized that the bullet was still lodged into his hip, where it remains today. The bullet is not expected to cause him any further health or performance issues.
"It's crazy how young the people who shot him were.  It really speaks to how bad people in Venezuela are struggling," junior Sydney Fetterhoff said.
MLB Pipeline ranked Estrada as the number 10 prospect in the Yankees organization.  He was able to hit over .300 as he played for the team's Double A affiliate last season.  He returned to make his season debut at class High A in 2018 and in his first game back from the gunshot wound injury, Estrada went 3 for 5 and scored a pair of runs.  Estrada was expecting by many league experts to begin the year in Triple A after his strong performance last year, which makes the debut in High A more unexpected. Since this return, Estrada is hitting .222 through ten games on the season, the lowest mark of this statistic at this point in his career.
"Hopefully Estrada can get back to his previous form and eventually to the level he needs to be to make the Major League team," sophomore Hunter Larson said.
The country of Venezuela has seen many violent attacks like the one Estrada was a victim of as their as the country is suffering from poverty, crime and lots of violence.  Over the course of the 2017 season, many players native of Venezuela that are now on MLB teams expressed their concern about the state of their country and the deteriorating relationship between their homeland and the United States.  Many MLB players from the country are not fortunate enough to get their family from Venezuela and into the U.S. as their talent allows them to be able to travel. In 2011, catcher Wilson Ramos was kidnapped on a family visit home to Venezuela and many believe instances like this are becoming more and more common.
"I hope they can eventually get the country back on track so that players can feel like their families are safe," sophomore Robby Manor said.
About the Writer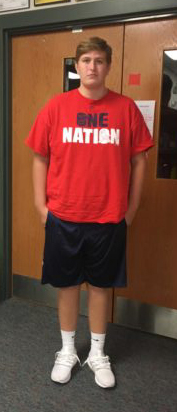 Blake Haffer, Reporter
Blake Haffer is a sophomore at Timberland High School.  

I love baseball, football and basketball and play or have played all three sports.  My passion...