Missouri Gov. Mike Parson Refuses to Call Special Session on Gun Violence
Missouri Governor Mike Parson has refused to call a special session of the General Assembly to consider legislation meant to address the problem of gun violence in St. Louis and throughout the state due to a recent outbreak of gun violence in the state's larger cities this year.
"I think the recent violence in the St. Louis area is a problem, because it is not setting a good example for the children and teens in the area. [They are] gonna think that [it is] okay," freshman Lillian Hackworth said.
The increase in violence in 2019 has led to a renewed interest in addressing the problem of homicides in St. Louis after a particularly bloody summer. In mid June, four children were shot over the course of five days, and at least 13 were killed during the summer. The homicide rate in Kansas City was also higher than in previous years.
"It is just as disturbing as violence anywhere else in the world, however it is especially worrying to me since it is close by," freshman Lucas Engelbrecht said.
Of the victims in the St. Louis area,  ten were ten years old or younger, and another five were between the ages of 15 and 16. The deaths of two 17 year olds are being investigated suspicious sudden deaths, and not homicides. All of the victims were African American, according to Time Magazine.
"People need to be taught that violence is not the answer to everything," freshman Kaitlyn Fink said.
Missouri's Black Caucus has met with Parson on numerous occasions to request a special session and discuss possible solutions, but Parson still refused to hold a special session. The Black Caucus met with Parson again on Sept. 3 where they discussed numerous solutions, including more spending on healthcare and education in those areas, though the governor did not back any gun law reform, according to St. Louis Public Radio.
"I think we should start teaching kids at a young age what violence [and] crime do to communities, so they realize that violence and crime is not always the smartest thing to turn to," Hackworth said.
A special session is being held this week, but Parson has thus far refused to add gun control to the agenda, which currently will be about addressing a car sales tax technicality in rural areas. The Black Caucus is continuing to spearhead demands that Parson let the issue of gun reform be discussed during the special session or a subsequent special session, though he has not yet agreed to do so.
"I think that there should be …  tests when you go to get a gun," sophomore Leah Berthold said.
Parson has also met with local St. Louis leaders, including St. Louis mayor Lyda Krewson, to attempt and work out solutions, and has pledged funds, "in the million dollar bracket," to go towards social programs to attempt and curb the violence, according to the St. Louis Post Dispatch.
"I think we need to undertake an aggressive revitalization program. Most of the violence or crime is caused by controllable socioeconomic factors. Open more parks and small businesses. Find a way to ease traffic. Invest more city dollars into repairing or redesigning the infrastructure and making St. Louis a pleasant area to live, rather than giving out corporate tax breaks, ignoring the real problems, and leaving it up to partisan politics. Create more jobs, raise the wages, and try to bring down the cost of living," junior ben Hostetter said.
The governor has also announced he will deploy the Missouri Highway Patrol to the St. Louis area to support local law enforcement, though the date of their deployment is not yet clear, according to the St. Louis Post Dispatch.
"Not being able to walk in your neighborhood without having some form of protection with you, or worrying if someone is watching you from a distance is frightening. It is hard to enjoy doing things I love to do now because of how cruel the world is," freshman Kylie Franklin said.
Missouri ranks fifth in gun deaths per capita, according to the most recent Center for Disease Control and Prevention statistics. In 2017, there were 1,307 gun related deaths in Missouri, and 655 homicides. The rate of gun related deaths was 21.5, almost double the national average of 12. There were a total of 39,733 gun related deaths in the United States in 2017.
"The violence in the St. Louis area has been an ongoing problem.  I think they should do more about it, because it is everyday that someone gets hurt or shot," junior Madison Deslatte said.
About the Writer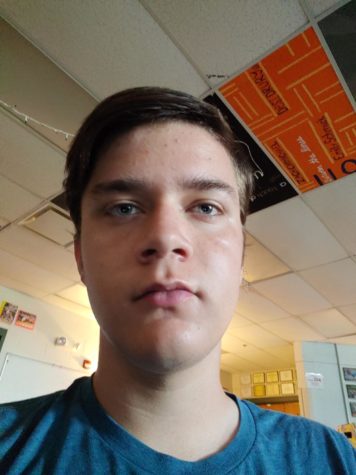 Patrick Kissel, Reporter
Hello, I'm Patrick Kissel. I'm a second year reporter on Wolfs Howl, and I took intro to journalism freshman year. I am a junior at Timberland. Outside...