NFL Injuries
Injuries are common in the sport of football.  The NFL season may be barely underway, but there are already many big name players that are on the injury reserve while some, who were previously injured, are also almost set to return to action.
Oakland Raiders pro bowl quarterback Derek Carr who broke his leg at the end of last season, is injured yet again.  Carr sustained a fracture in his back in the team's week 4 matchup against the Broncos.
The Minnesota Vikings are in a situation where, when one big player returns another one leaves.  Two of their quarterbacks, Sam Bradford and Teddy Bridgewater, are reportedly close to returning from their knee injuries.  Bradford has been the starting QB since Bridgewater's injury and had done a very good job until he got hurt too.
"I love Bridgewater, but I think Bradford did very well filling in.  I wouldn't be surprised at all if he still got a shot at the starting job once Bridgewater returns," junior Dylan Curtis said.
On the other side of the equation, running back sensation Dalvin Cook of the Vikings has been diagnosed with a torn ACL tendon injury that will sideline him for the rest of the season.  Cook had the third most rushing yards in the league before getting hurt week 4.
Eagles running back Darren Sproles will also be sidelined with an ACL injury but also broke his arm on the same play.  One of the more tragic injuries so far this season as he looked to be in a ton of pain.
"This was a terrible injury but now Legarrette Blount now needs to step up and fill in for Sproles," said sophomore Noah Morris.
One of the most anticipated NFL debuts is also very close is the 2017 number one overall pick Myles Garrett is close to returning from an ankle injury that has kept him out of regular season action all year.
"I am really excited to see Garrett play this year because he was the ultimate playmaker in college and should bring that to his NFL team," junior Cameron Kreklow said.
The next game is on October 12, and it is the Eagles against the Panthers.  If thus game follows the trend of others before it, there will be quite a few injuries in it.
About the Writer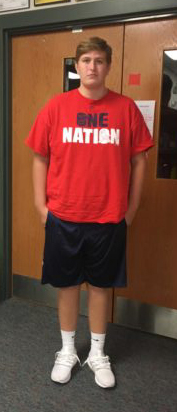 Blake Haffer, Reporter
Blake Haffer is a sophomore at Timberland High School.  

I love baseball, football and basketball and play or have played all three sports.  My passion...