Tragedy in Las Vegas
Fifty eight people were killed and over 500 others injured in a shooting at the Las Vegas Music Festival Sunday night.
A 64 year old gunman, Stephen Paddock, opened fire on spectators at the event from the balcony outside his room in the hotel and casino building. The man had many weapons in his room, according to news reports.
"This is an awful thing that happened to a bunch of innocent people," senior Alex Thomason said.
The event is  being called one of the most deadly massacres in American history. Las Vegas SWAT officers burst into the man's hotel room to find the suspect dead. Reports have said that family of the shooter were shocked to hear about the news that their
relative had done. THS students expressed many emotions about the event.
"I have no idea about what could have possibly possessed a man to do something like that. Just to open fire on all of those people," sophomore Edwin Robinson said.
At the time of the shooting, country singer Jason Aldean was performing at the music festival. Many other celebrities have been saying what they think about the whole tragedy on social media and in other interviews.
About the Writer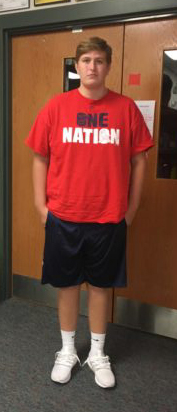 Blake Haffer, Reporter
Blake Haffer is a sophomore at Timberland High School.  

I love baseball, football and basketball and play or have played all three sports.  My passion...