Control of Rhetoric: An Opinion Concerning Donald Trump
On Saturday, a mass shooting occurred at a synagogue in Pittsburgh, Pennsylvania. During the shooting, 11 Jews were killed and four were injured. Two police officers were also injured in a shootout with the suspect shortly before he surrendered. For multiple weeks before the shooting, the suspect peddled conspiracies pushed by the right wing about democratic donor George Soros, who is also a Holocaust survivor, controlling multiple government departments, and also controlling the caravans that have recently been coming towards the border. Just before entering the Tree of Life Synagogue, the suspect posted on social media, "screw the optics, I'm going in."
The conspiracy of Soros funding the caravans coming from Latin America had begun on FOX News. Quickly after it aired on their network, many members of the republican party, including President Donald Trump pushed the conspiracy, with Trump tweeting multiple times that the caravan was funded by the democrats. Strangely, when Trump tweeted about the caravan, Trump would oftentimes single out one of the many donors to the democratic party; George Soros.
In August and September of 2017, a rally occurred in Charlottesville, Virginia called the "United the Right" rally. The protest was initially over the city of Charlottesville's removal of multiple statues of Confederate generals. The protests quickly spiraled out of control, though, as counter protesters also began to come to Charlottesville. Many of the right-wing protesters carried riot shields, and dawned some form or another of paramilitary gear. Many of the right-wing protesters were self-identifying neo-nazis and white nationalists, and were filmed one night walking through the streets of Charlottesville with tiki torches chanting "the Jews will not replace us." Also, during the Charlottesville protests, a synagogue in Charlottesville was surrounded by the white nationalists, and a white nationalist plowed a car into a group of counter protesters killing counter protester Heather Heyer, and wounding many others. Trump came out and said "there is violence on both sides."
The rhetoric the President has used since the day he descended the escalator and launched his campaign has been violent. He has encouraged violence at his rallies, eluded to violence in his tweets and speeches and peddled conspiracy theories that were anti semitic, racist or otherwise untrue against his enemies, even if they were republicans. At a rally in Iowa during the presidential elections, Trump said, "If you see somebody getting ready to throw a tomato, knock the crap out of them, would you? Seriously, OK? Just knock the [expletive]… I promise you I will pay for the legal fees. I promise, I promise," according to ABC.
After California democratic representative Maxine Waters encouraged Americans to stop, and protest, and debate with politicians in public when you disagree with them after some politicians were confronted during dinners, or on the sidewalks, Trump tweeted, "Congresswoman Maxine Waters, an extraordinarily low IQ person, has become, together with Nancy Pelosi, the Face of the Democrat Party. She has just called for harm to supporters, of which there are many, of the Make America Great Again movement. Be careful what you wish for Max!" Waters was the recipient of two of the bombs that were mailed by a Trump supporter to many of those that Trump had targeted with his rhetoric, which included Waters, former president Barack Obama, former secretary of state Hillary Clinton, two bombs sent to the New York headquarters of Time Warner, who owns CNN and Soros. It is worth noting the end of the tweet, where Trump falsely claimed that Waters had encouraged violence against MAGA supporters, which she did not, and then said, "be careful what you wish for, Max!"
Beyond the aforementioned examples of Trump's violent rhetoric that he sends to his supporters, Trump has called the press "the enemy of the people." A few weeks after that, three journalists were shot, and a few others wounded at a newspaper office in Maryland by a right-winger. Trump told Axios in an interview recently that his reason for this is that it makes his supporters like him more, and that is the problem.
Trump does not care what his rhetoric's consequences are so long as it makes his base even more steadfast. After CNN received the bombs from Trump's supporter, Trump blaimed the media for the attack, saying that it is them that are creating the violent rhetoric, and not him. He refuses to outright condemn neo-nazis, antisemites, islamophobes and others after they commit these heinous acts, and he peddles conspiracies of people attempting to undermine the United States of America. What is expected to happen when the President of the United States points out an enemy of the government, even rhetorically? What is expected to happen when the President of the United States points to an organization, and calls it the enemy of the people and the fake news, even rhetorically?
The President is supposed to be the rock of democracy, the rock that protects the nation from attacks, even if the attacks are from their ideology. But Trump has failed to do that, and instead has done the exact opposite. He has called for violence at his rallies, saying he would pay the legal bills for those that attack his enemies violently. The President should not be divisive, and should not peddle conspiracy theories, especially against other members of the government, and, most importantly, should never shy from condemning those who identify with fringe organizations and ideologies that are explicitly discriminative because of someone's race, religion, ethnic background or nationality, but Trump has done all these things, and if he does not quit with the violent rhetoric, and he does not stop encouraging his voters for to be violent during his rallies simply to gain support, it could well lead to more violence from supporters taking his campaign rhetoric all too literally.
About the Writer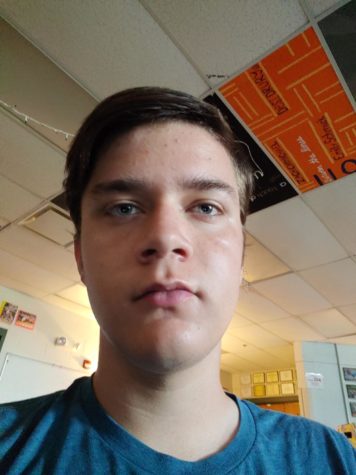 Patrick Kissel, Reporter
Hello, I'm Patrick Kissel. I'm a second year reporter on Wolfs Howl, and I took intro to journalism freshman year. I am a junior at Timberland. Outside...