The Apple Watch and its Price
The high price of the Apple Watch could be making some possible owners think twice before purchasing.
"I think that the watch is worth the money, but I understand why people would think it is expensive," sophomore Zane Keadle said.
When the watches first came out, the original cost was $349, and made very good profit.  According to an article on Wearable.com, the first edition of the product reached million sales within the first year of its release.  Apple has since released a second edition of their smart watch, the Apple Watch Series 2, including bigger screens, and different metals, such as aluminum or steel. The prices then ranged from $269 to $549.  The price of the Apple Watch series 3 will be reduced to $399.
"My favorite thing about the watch is how you can text directly from the watch,"sophomore Adam Thomason said.
The new Apple Watch allows users to make calls, texts, ask Siri questions, set dates and listen to music, as well as access apps from an iPhone, even if the phone is not near the watch. On top of this, the watch is waterproof, so it can be used in water, or sweat, and it won't get ruined. 
"The watch is useful in so many situations, and you can check your texts so much faster on the watch rather than the phone,"  Thomason said.
According to an article on USA Today, sports teams have already been caught cheating with the watch. Boston Red Sox second basemen Dustin Pedroia was caught stealing signs from the Yankees during a game.  The Yankees themselves did the same during a game against the Los Angeles Angels a few weeks later.  The article also highlighted that the watch could have been easily mistaken as a normal watch perhaps making it easier to cheat with.
About the Contributor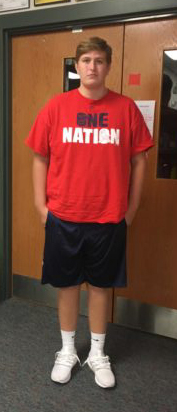 Blake Haffer, Reporter
Blake Haffer is a sophomore at Timberland High School.  

I love baseball, football and basketball and play or have played all three sports.  My passion...