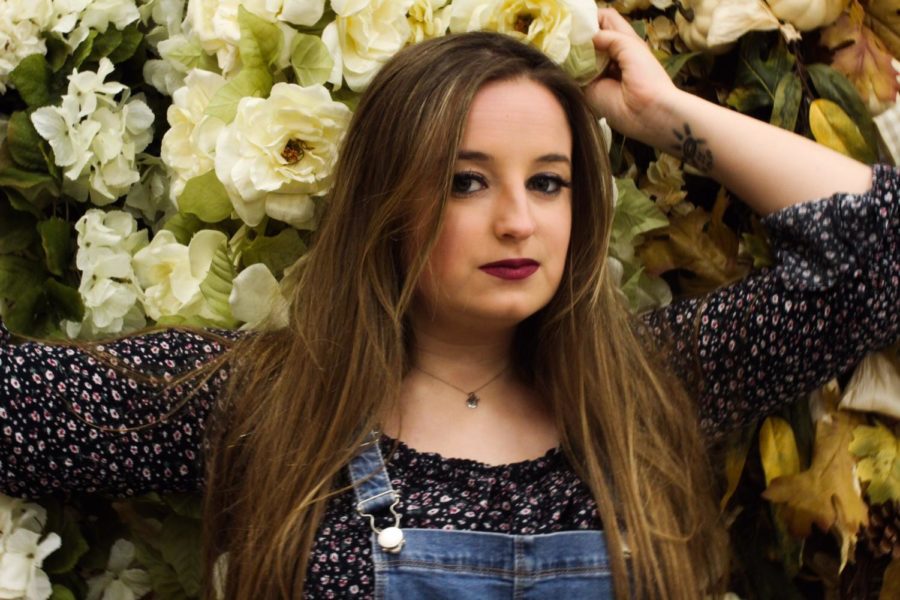 Hi, my name is Audrey Whalen, I am a senior at Timberland and this is my second year on the newspaper staff.
I would like to consider myself a social butterfly. I try to go to every football game and I am apart of many clubs here at Timberland.
My passion in life is writing and teaching. After high school I plan on becoming a teacher and I cannot wait to better kids life's as a teacher.
Audrey Whalen, Reporter
May 08, 2019

Victoria Beckham Helps Sponsor Charity Fashion Show

(Story)

May 08, 2019
May 08, 2019

Impossible Nation

(Story)

May 08, 2019

James Charles Tour

(Story)

May 08, 2019
May 08, 2019
Apr 30, 2019

Jonas Brothers New Album

(Story)

Apr 23, 2019
Apr 10, 2019
Apr 10, 2019

Stranger Things 3: A Preview

(Story)

Apr 10, 2019

Toy Story 4: A Preview

(Story)

Apr 10, 2019

Sabrina the Teenage Witch Season 2

(Story)

Apr 02, 2019

The Act: A Review

(Story)

Mar 19, 2019

Luke Perry Passes Away

(Story)

Mar 19, 2019

Kim Possible Reboot

(Story)

Mar 19, 2019

Subliminal Messages in Disney

(Story)

Mar 19, 2019
Mar 15, 2019

Ariana Grande Beats the Beatles Record

(Story)

Mar 15, 2019

Burberry Noose Hoodie

(Story)

Mar 15, 2019

Chuck E Cheese Pizza

(Story)

Mar 15, 2019

Child's Play Reboot

(Story)

Mar 15, 2019

Alex Trebek-Stage 4 Cancer

(Story)

Mar 15, 2019

Jonas Brothers New Song

(Story)

Feb 20, 2019

21 Savage and Demi Lovato

(Story)

Feb 20, 2019

Woolsey Fire Conspiracy

(Story)

Feb 20, 2019
Feb 20, 2019

Happy Death Day 2U

(Story)

Feb 06, 2019

Tattooist of Auschwitz: A Review

(Story)

Jan 28, 2019

Fun Things to do on Valentine's Day

(Story)

Jan 22, 2019

Britney Spears Deep Voice

(Story)

Jan 22, 2019

'How Far is Tattoo Far?' A Review

(Story)

Jan 22, 2019
Jan 11, 2019
Dec 20, 2018

The Midwinter Tale

(Story)

Dec 12, 2018

'Lion King' Teaser

(Story)

Dec 12, 2018
Dec 12, 2018
Dec 04, 2018
Dec 04, 2018

Fun Things To Do In St.Louis

(Story)

Dec 04, 2018

The Chilling Adventures of Sabrina the Teenage Witch

(Story)

Dec 04, 2018

The Haunting of Hill House

(Story)

Dec 04, 2018

The Sister Pallet

(Story)

Nov 14, 2018

Ariana Grande and Pete Davidson Split

(Story)

Nov 14, 2018
Nov 14, 2018

Supreme & North Face

(Story)

Nov 14, 2018
Nov 14, 2018

Juice Wrld New Album

(Story)

Oct 24, 2018

Twilight… Books or movies?

(Story)

Oct 23, 2018

American Horror Story

(Story)

Oct 23, 2018

Moon Landing… Real or Fake?

(Story)

Oct 16, 2018

Selena Gomez: An Update

(Story)

Oct 10, 2018

New Disney Movies

(Story)

Oct 10, 2018

Illuminati? Are they a thing?

(Story)

Oct 10, 2018
Oct 10, 2018
Oct 01, 2018

Homework…Is it a Necessary Evil?

(Story)

Sep 18, 2018

New Batwoman Announced

(Story)

Sep 18, 2018
Sep 18, 2018

'Grease' Conspiracy Theory

(Story)

Sep 18, 2018

Arethra Franklin Death

(Story)

Sep 18, 2018

Harry Potter 20th Anniversary

(Story)

Aug 30, 2018

'When We Collided': A Book Review

(Story)

May 14, 2018
May 14, 2018

Abby Lee Miller Surgery

(Story)

May 14, 2018

13 Reasons Why: A Preview

(Story)

May 03, 2018
May 03, 2018
May 03, 2018

Jersey Shore "Family Vacation"

(Story)

May 03, 2018

Waffle House Shooting

(Story)

May 03, 2018

Malaysia Flight Conspiracy Theory

(Story)

Mar 22, 2018

Kylie's New Collection

(Story)

Mar 22, 2018

Khloe Kardashian Baby Girl

(Story)

Mar 22, 2018

Titanic Conspiracy Theory

(Story)

Mar 16, 2018

One Direction Solo Career's

(Story)

Mar 08, 2018
Mar 08, 2018

Spice Girls Reunion Tour

(Story)

Mar 08, 2018

Haunted Places to Explore In St. Louis

(Story)

Mar 08, 2018

Crazy House Review

(Story/Media)

Mar 08, 2018

Suicide: A Serious Topic

(Story)

Feb 22, 2018

Winchester Mansion

(Story)

Feb 22, 2018
Feb 22, 2018
Jan 29, 2018
Jan 29, 2018

KarJenner Pregnancies

(Story)

Jan 29, 2018

Sandbox Coloring App

(Story)

Jan 29, 2018

New Movies For 2018

(Story)

Jan 19, 2018
Jan 14, 2018

New TV Shows on Netflix

(Story)

Dec 22, 2017
Dec 22, 2017
Dec 22, 2017

Kylie and Jeffree

(Story/Media)

Dec 20, 2017
Dec 04, 2017

Black Friday History

(Story)

Nov 29, 2017
Nov 29, 2017

Chris Browns New Album

(Story/Media)

Nov 26, 2017
Nov 07, 2017

Jason Aldean Honoring the Vegas Victims

(Story/Media)

Nov 07, 2017

Return Of 'Riverdale'

(Story)

Nov 06, 2017

Stranger Things, Season 2

(Story)

Oct 19, 2017

US Men's Soccer Team

(Story)

Oct 12, 2017

New Netflix Shows

(Story/Media)

Oct 12, 2017
Oct 12, 2017
Oct 05, 2017
Sep 22, 2017

Fashion Come Backs

(Story)

Sep 19, 2017

Was 'IT' Worth it?

(Story)